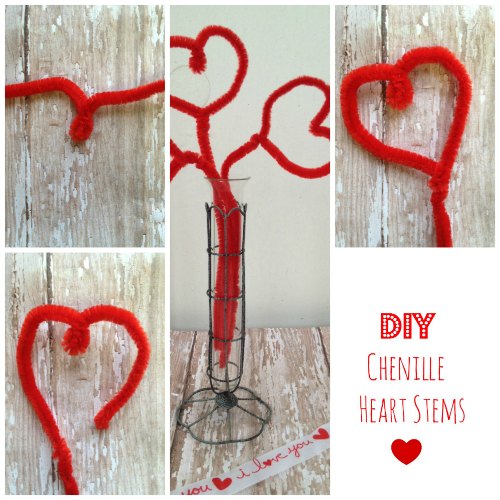 Chenille hearts are so simple to make, yet make such a sweet statement. Stuck in plants, bouquets, or even vases to stand alone, these DIY chenille hearts can be made in minutes using supplies from your local dollar store. Take a peek below at how to create your own, so you can have a bouquet to display and use in your Valentine's Day decorating.
You can find assorted chenille pipe cleaners at both your local dollar store and your local craft store. They can be found in various finishes, such as sparkly, extra furry, or just plain as we used. Choose a finish that works for you and compliments your style.
Create several of these chenille heart stems and place them in a simple vase as we did, or you can place them right into your houseplants. They are a great way to add some Valentine's Day flare to just about anything, so give them a try!

DIY Chenille Heart Stems
Ingredients
Supplies needed:
Red chenille pipe cleaners
Vase (optional)
Instructions
Begin by laying a pipe cleaner flat and horizontal on a table.
At the far right the pipe cleaner, make an indentation. This is where you heart will begin to form. Twist the indentation to form the dip of the heart.
Take your fingers and bend the pipe cleaner on each side of the indentation to form the arches of the heart.
Take the pipe cleaner to the right of the arch and bend it towards the main portion of stem. Twist to attach it.
Repeat this step with a small portion of pipe cleaner to the left of the arch. You will now see your heart shape forming.
Use your fingers to adjust the pipe cleaner as needed and even out your heart.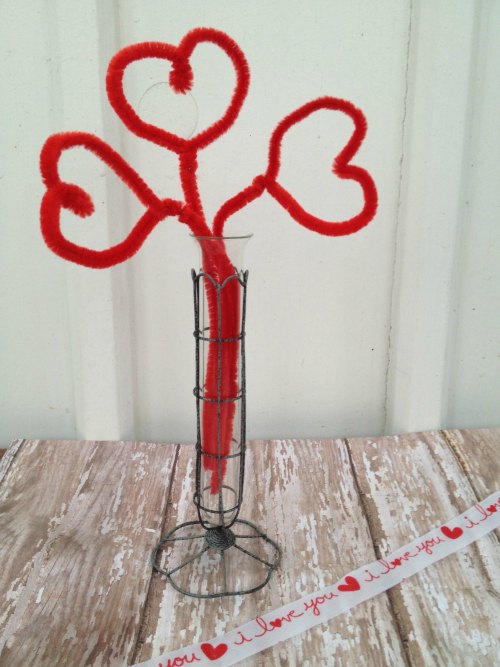 Find more handmade Valentine's Day ideas!
Did you enjoy this post? Find more money saving tips here.