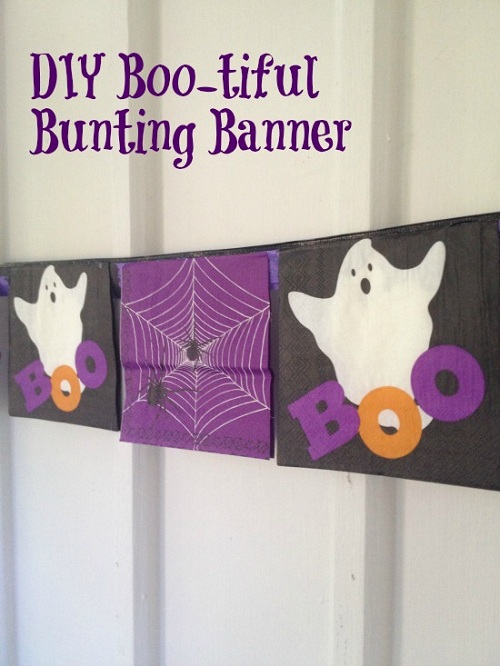 Garlands and banners aren't just for Christmas. In fact, Halloween is the perfect time to display banners that reflect the colors and themes of the season. If you are wanting a banner to drape from your mantel or entry way, but don't want to spend big bucks doing so, this DIY project is the perfect choice. This Boo-tiful Bunting Banner is just what you need to add Halloween charm and spark to your home, plus, everything you need to create it can be found at your local Dollar Tree. This is a decorative piece both you and your wallet can enjoy, so take a look at how you can whip one up this weekend.
Boo-tiful Bunting Banner
Supplies Needed:
Two packages of Halloween napkins, each in a different pattern or color
Halloween themed ribbon
Craft glue
Scissors
When is the last time you made a craft that only used four materials? Remember, you can head over to Dollar Tree and find all of the items listed here for just $1.
Directions:

First, cut your Halloween ribbon down the center to create a thinner strip of ribbon. For this project you will want at least three feet of ribbon. Dollar Tree sells 9 ft. rolls so they are perfect for making several of these banners if you wish.
Now, decide how you want to line your napkins up on the ribbon. Your napkins will act as the pennant on the banner, so arrange them in a way that appeals to you. As you can see in the sample picture, we alternated in an AB pattern. However you can do whatever looks best for you.
Take your craft glue and place it generously on the ribbon, close to the top. Press your first napkin to the glue and hold it firmly into place so it adheres well. Repeat the process with the next napkin and so on until the ribbon is filled.
Once all of your napkins are on the ribbon, you want to give it plenty of drying time before hanging. Allow it a good hour if not two to dry well.
Now, your boo-tiful banner is ready to hang! You can use tape or even push pins to hang it from a mantel, entryway, or even a staircase. It will add the perfect pop of color and Halloween flare. So head over to your local Dollar Tree and gather the supplies you need to create this Boo-tiful Bunting Banner. It will only cost you a few dollars, and the end result is a banner you will be able to use year after year
View our past DIY Halloween Craft posts.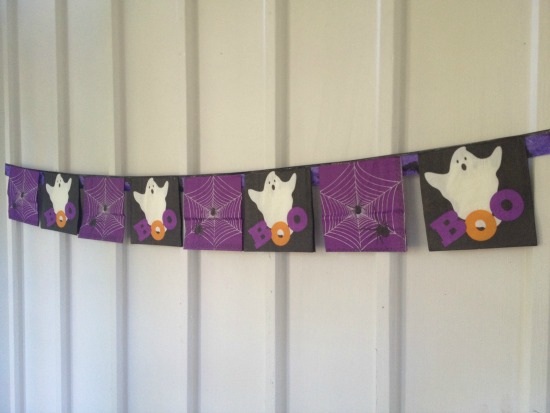 Did you enjoy this post? Find more money saving tips here.