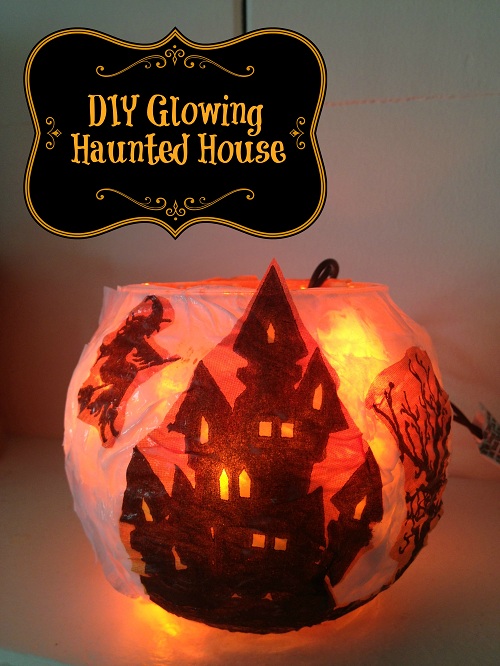 It seems as though Halloween and haunted houses go hand in hand don't they? Nothing is quite as spooky as a haunted house, which is why this Glowing Haunted House project is exactly the craft you need to add some spook to your own not-so-haunted home. The price to create this is not frightening either, since everything you need is available at your local Dollar Tree store. Take a look at how to make your own Glowing Haunted House, a fun and frugal craft that won't leave you broke!
Glowing Haunted House
Supplies Needed:
Orange tissue paper
Small, round glass votive holder
Craft glue
Haunted house napkins
Scissors
Orange twinkle lights

You will be able to find everything mentioned here at your local Dollar Tree. Just take a peek in the Halloween décor and house goods section.
Directions:
You want to begin by ripping your orange tissue paper into shreds.
Just as you covered the glass votive holder with white paper previously to create a ghost, this time you are covering it with orange to create your haunted house background. To do this, apply craft glue to the surface of the glass and begin covering it with the pieces of orange tissue paper. Repeat the process until the entire glass votive holder is covered.
Next, take the haunted house napkin and cut out the haunted house design. You can also cut out trees, the witch, the moon, or any other aspects of the napkin that appeal to you.
While the glue on your votive holder is still wet, gently press the napkin designs you cut out to the glass. You will notice that the pieces will sort of melt into the glue.
Once dry, place your orange twinkle lights inside of the votive holder. Plug them in and watch your haunted house just glow!
Find a fun place to display your haunted house such as a window, on a mantel, or even on your work desk. It adds the perfect little pop of Halloween charm to any space you add it to, and the best part is, it is so inexpensive to make. Head to your local Dollar Tree and give this fun DIY project a try!
View our past DIY Halloween Craft posts.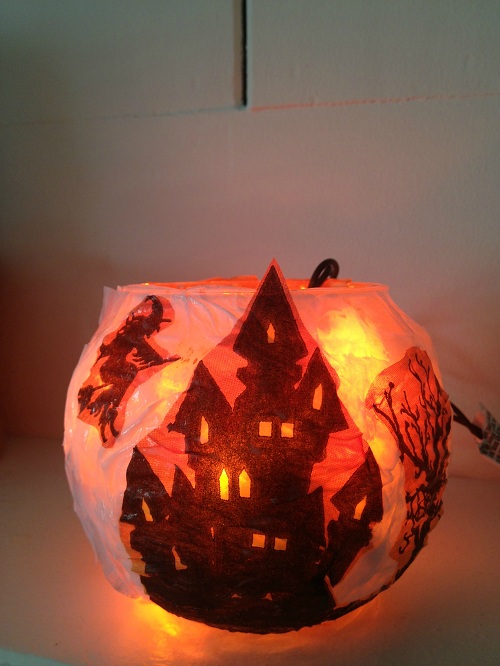 Did you enjoy this post? Find more money saving tips here.