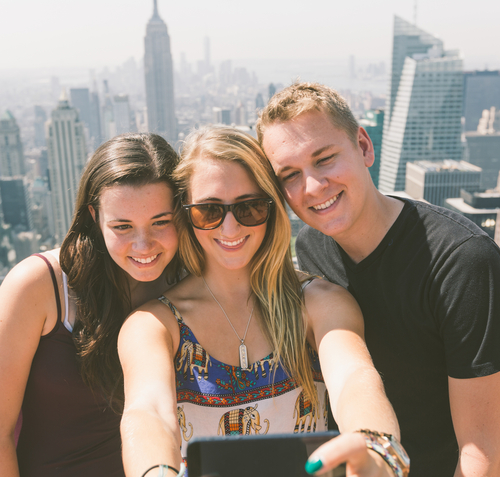 The average American household spent $2,728 on entertainment in 2014, nearly as much as the average cost of health insurance, according to the Bureau of Labor Statistics. If you're going out on the town in a city with a high cost of living, such as New York or Los Angeles, an evening out can run higher than average. Lodging, transportation, food, shopping and other costs quickly add up. Fortunately, if you apply some cost-cutting strategies and do some planning, you can enjoy a big city on a small town budget.
Start With a Budget
How much you can afford to spend on entertainment is determined by your overall finances, so start with a simple budgeting strategy like the 50/20/30 rule. Financial writer Laura Shin, writing for LearnVest, explains that half of your monthly income gets set aside for fixed monthly expenses such as rent, utilities, insurance and any monthly subscription services. Then, 20 percent goes toward financial goals, such as paying off debt and building a savings fund. Finally, 30 percent is left over for discretionary expenses, including entertainment. Before going on vacation, set a target for your entertainment budget goal and save toward it over a period of time.
Plan Early
Planning entertainment activities ahead of time can save you considerable money. For instance, if you want to see a classic Broadway play like "Phantom of the Opera," you can often find significant discounts and cheaper seating arrangements by ordering early on sites like Telecharge. Airlines, hotels, restaurants, amusement parks, museums and sporting events also often offer early-bird discounts for making reservations ahead of time. Making early reservations also saves you money by giving you more flexibility to choose less expensive options before they become unavailable.
Research Discounts
Another advantage of planning early is that it gives you an opportunity to research discounts. Money Crashers identifies a number of places you can find entertainment discounts online. These include daily deal websites like Groupon, circulars, mailers, event websites, restaurants that offer discounts for kids or birthdays, clubs with membership discounts like AAA and store receipts that contain promotions on them. Tourism department websites and centers are also excellent places to find discount coupons. You can find tourist passes for popular attractions in many cities using resources such as City Pass.
Schedule Activities During Non-peak Times
Most popular entertainment spots are less expensive during the off-season, so avoiding peak season is a good way to save money. Transportation, hotels, dining, and entertainment may all be cheaper if you know when to travel. For instance, major cities like Chicago are often most expensive during summer and holidays. Peak-season and off-season schedules are usually weather-dependent, and particular attractions can also have their own individual busy times. Brad's Deals provides a month-by-month calendar showing off-season times for popular entertainment locations. If you do choose to take advantage of non-peak times, be aware that weather may be less than optimal and some attractions may not be open, so plan accordingly.
Focus on Cutting Major Expenses
Get the best bang for your buck by trimming your biggest budget items first. Transportation, hotels, and food are good places to start. For instance, Kiplinger editor Cameron Huddleston says that if you're going to New York City, you can save on transportation by taking an alternate airline or a bus to get there and by getting a seven-day unlimited MetroCard to travel around the city. Strategies for saving money on hotels include using economy hotel chains, choosing accommodations with shared bathrooms and renting a room or an apartment, which also lets you save money by cooking meals. Entertainment sites such as Time Out also provide guides to cheap places to eat in New York and other cities.
Take Advantage of Low-cost Entertainment Opportunities
In most cities, there are inexpensive entertainment opportunities available to the public. For instance, Free Tours by Foot offers free sightseeing tours of New York City and provides a list of museums and art galleries that are either always free, free during certain hours or only request suggested donations. Funcheap provides a similar guide to San Francisco attractions. Many cities also offer free or inexpensive attractions such as parks, outdoor concerts, festivals, university performances, library events, budget theaters, beach walks and boat tours.
Did you enjoy this post? Find more money saving tips here.