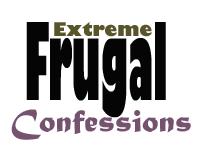 Extreme Frugalness. Tight, cheap, stingy? You know what I'm talking about and personally, I love it.
fru·gal
– Practicing or marked by economy, as in the expenditure of money or the use of material resources.
ex·treme
– Most remote in any direction; outermost or farthest: the extreme edge of the field.
– Being in or attaining the greatest or highest degree; very intense:
As you may know, I was recently at a Blogging Conference called Blissdom. At this conference, I had quite the opportunity to come across many, many frugal bloggers. We shared stories, tips, and laughs. As well as bringing in our water/water bottles, snacks (purchased by coupons of course!), using stranger's condiment packages left on their trays (did that really happen?), and taking advantage of all the included meals and snacks included in our conference package.
At the same time the Blissdom Conference was going on, the Tea Party Convention was going on right next door. Lovely people but I heard rumors they kept drifting over to our Expo Hall and taking advantage of our treats! Frugal or Cheap?
My confession. Every day I would take the little bottles of shampoo, conditioner, and soaps in my bathroom so the housekeeping staff would put more out. These tiny little bottles make nice little returning home gifts for my kids or donations to shelters at no additional cost to me.My frugal friends tell me this is perfectly acceptable to them, but to the rest of the world?
Now it's your turn.
You know you have a confession to make. To what extremes have you gone to save a buck this week or in the past?
Link up or leave a comment. Leave it anonymously if you want – we won't tell!