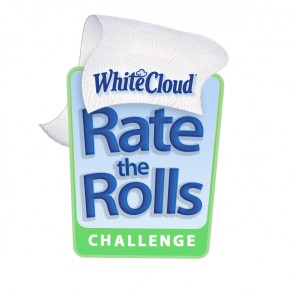 If we met at Blissdom, you probably received one of my business cards, which included a special code for a FREE package of White Cloud Green Earth Bath Tissue. You may have also been asked and possibly offended when I asked if you were a buncher or a folder. Hopefully, not too offended.
I only had one person ask me, are you serious? Bless, sweet, shy Stephanie. Sorry about that.
To answer your question, no White Cloud did not request we poll people about their bathroom behavior. I just thought it was fascinating question. In fact, it was one of our main topics of our dinner conversation. Yes, we talked TP at dinner. For the daughter and wife of a plumber, this really isn't out of the ordinary. In fact, it was quite tame compared to some of the topics at my dinner table.
Though, we did briefly discuss the FPT (Finger Poke-through Test).
Interestingly enough, there has been research on how people specifically use their bathroom tissue. The research shows that for the most part women scrunch and men fold. You just thought the only bath tissue question was over or under, right?
So onto the Rate the Roll Challenge Part III. White Cloud sent me two rolls of bathroom tissue. This time the differences are much more glaring than the past challenges. Roll A is a softer tissue and a bigger roll. Roll B is like bath tissue you would find at the gas station, hard, not soft at all. Plus, the roll was much smaller.
I also want to clear up a misconception about White Cloud products. White Cloud is not a generic product or a Walmart brand. However, you can only purchase White Cloud products at Walmart.
Will you reveal if you are a folder, scruncher, or another variation?
What did the other White Cloud Bloggers think? You will want to visit Kingdom First Mom, Keeper of the Cheerios, Green & Clean Mom, and Get Buttoned Up to see what the other bloggers thought!
Disclosure: White Cloud has compensated me for my time on this project. Rest assured, all opinions and thoughts are always my own. My goal as always is to help you save time and money. For more information read my disclosure policy.