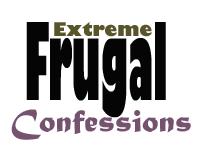 Extreme Frugalness. Tight, cheap, stingy? You know what I'm talking about and personally, I love it.
fru·gal
– Practicing or marked by economy, as in the expenditure of money or the use of material resources.
ex·treme
– Most remote in any direction; outermost or farthest: the extreme edge of the field.
– Being in or attaining the greatest or highest degree; very intense:
Growing up in a middle class family, I was raised to live frugally and within your means. My parents provided us with everything that we could possibly need, though not always with everything we wanted. Our kids today compared to how my husband and I grew up are completely spoiled.
Sometimes these lessons were good and sometimes these lessons were very painful. As I'm thinking of my kids and what they will need for their Spring sports, I'm vividly remembering a painful lesson about cleats. If my parents are reading this, I know you meant well and were living within your means, which is extremely smart. Also, I wasn't traumatized for life – in fact, it made me work harder!
It was 5th or 6th grade in the middle 80s. I had signed up for soccer on a co-ed team. All the coolest of the cool kids were on the team. Most were children of doctors and lawyers and real estate agents. Not me and I was one of just a few girls on the team. Since this was my first year to play soccer, my mom didn't think I needed to get new cleats. I could just wear her softball cleats that were a size too large to play soccer. Of course, that would work! Of course, mom !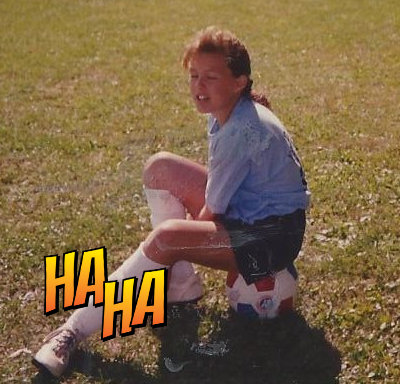 Obviously, they did work just as intended. However, it wasn't what I wanted. I remember being absolutely mortified to go to the soccer field in those cleats. I was mad, embarrassed, and extremely determined. Determined to not let the cleats define my ability. But really, who was I kidding, I thought these horrendous bangs were awesome!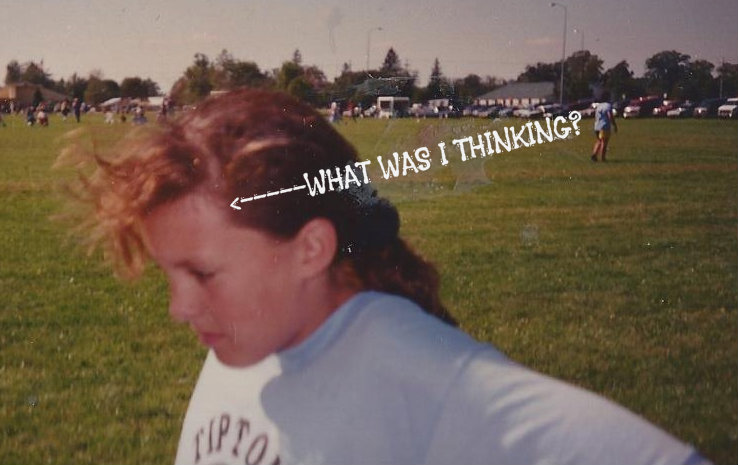 It could be my imagination or just a extremely dramatic memory of the experience but I remember being stared at and possibly laughed at by my teammates. I'm sure you all remember how mean and cruel kids that age could be – especially boys. I'm sure I was the same at some point as well. For some reason, I also remember wearing shorts that were way too short. I know they weren't Umbro! Once I got over that initial practice of wearing those ugly, too large, softball cleats.
I came across this picture and I don't think I was paranoid or maybe he just liked those short shorts!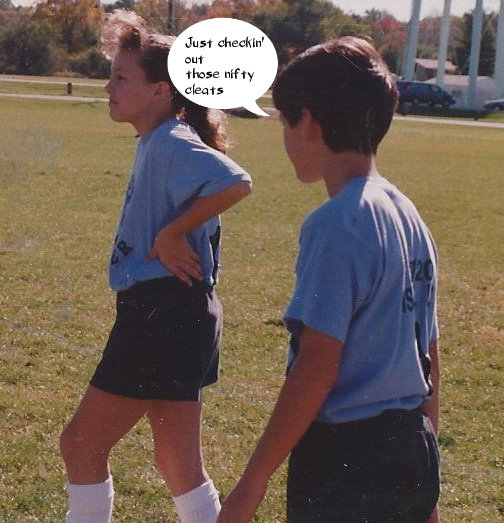 Did this stop me from playing soccer that year? No, I finished the season. I continued to play. I also knew then that I had to work to get the things I wanted. My parents gave us all they could and more than we needed even if they were on a budget but kids always want more. They always want the best, the newest, the most expensive even if they don't need it. It feels so much better when you earn things instead of having them given to you undeservingly.
While these experiences encouraged me to work harder to earn money for the things I wanted, I find myself giving into my kids way too often. I want them to also feel that little pain of embarrassment so they will work harder while not completely traumatizing them for life!
Do you have a memory like this that you remember that is specific in your mind?
You know you have a confession to make. To what extremes have you gone to save a buck this week or in the past?
Link up or leave a comment. Leave it anonymously if you want – we won't tell!