Here we are in Week 2 of Freezer to Lunch Box.  This re-do incorporates whole wheat into a tasty, treat that won't stump you with pronouncing the ingredients.  With a wide variety of fillers you have a very versatile lunch choice.
Hot Pocket Re-do
1 ¼ cup white all-purpose flour

1 ¼ cup whole wheat flour

2 pkg. or 4 ½ tsps. dry active yeast

2 cups very warm water

4 Tbsp. Olive Oil

2 tsp. sugar

1 tsp. salt
Preheat oven to 450°
Dissolve yeast in water for 10 minutes until creamy.  Stir in flour, salt, sugar, and oil. Beat until smooth- If dough seems too sticky; add more flour 1 Tbsp. at a time until smooth.  Let dough rest for 5 minutes. Roll out to 1/8th of an inch on a well-floured surface.  You can then cut shapes with a small glass bowl or by hand with a knife.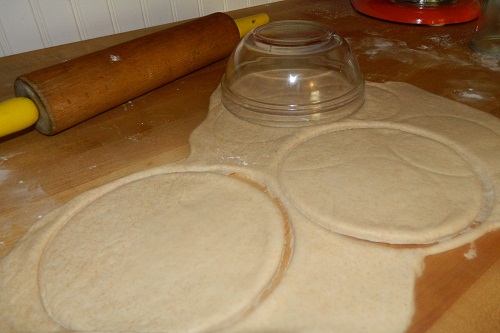 In the center of cut out, spoon the fillings of your choice- ham and Swiss, turkey and cheddar, pepperoni, cheese, and sauce, or taco meat, cheese, and salsa.  (You could even fill with breakfast items for morning convenience).  Fold over dough and press all around the edges with a fork. Place on a cookie sheet or pizza stone sprayed with non-stick spray.  Poke several holes with a fork to allow steam to escape, ( I like to punch in letters that stand for fillings like H for Ham, that helps when I'm bagging) Bake for 8 minutes or until golden brown.   Makes approximately 8 -10 pockets, depending on size.  I used a glass bowl about 4" across to cut out my shapes, and was able to make 8.
Working in an assembly line fashion will help you fill your pockets quickly; cut out, fill, fold, pinch, and bake.
Allow to cool, separate by type of filling, and seal in a Ziploc freezer bags. Remember to label bag with date and name of dish.
Finish off with a single serve hummus, pita chips, and a piece of fruit.  You have a filling, nutritious lunch without all the unpronounceable additives on the side of the store bought box. Be sure to look next week for our next Freezer to Lunch Box recipe.
Be sure to check out these 5 Tips to Save on School Lunches too!

[amd-zlrecipe-recipe:117]
View the Recipe Index for a complete list of recipes. For the most recent vegetarian recipes posted on the blog, go here. To view all the recipes post on the blog, go here.