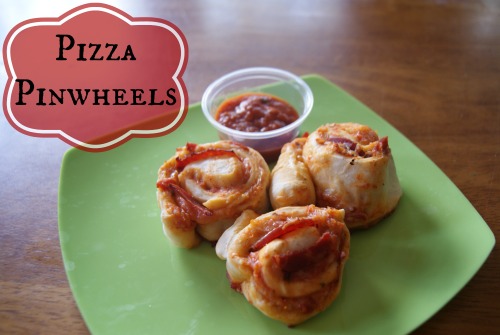 Pizza is a favorite of just about everyone. Finding something that everyone likes in our household is an almost impossible task! These Pizza Pinwheels are customizable and great as yet another Freezer to Lunchbox idea!
These pizza pinwheels are a neat way to pack pizza without cramming a big triangle slice into the lunchbox.  Make a double recipe and freeze these, reheat in microwave, or toaster oven.  This simple recipe does double duty as perfect appetizer for  game day .
You will need:
Pizza Dough
Sauce
Shredded Cheese
Pepperoni
Olives, mushrooms, sausage or any favorite toppings
Start by picking up your favorite premade dough, or make your own. Here is a simple recipe that I use, it's pretty simple and healthy to make.
Simple Pizza Dough
2 ½ cups all-purpose flour
2 pkgs. Dry active yeast
2 cups warm water
4 Tbsp. Olive Oil
1 tsp. salt
Preheat oven to 450°
Add yeast to warm water in a small bowl, allow to set for 10 minutes.  Add remaining ingredients and mix well.  Use dough hook on mixer or knead by hand for 5 minutes until dough appears smooth.  Let it rest for about 5 minutes. If you want to edge up the healthy factor, substitute some of the white flour for whole wheat.
Roll pizza dough to about 1/8" thickness into a rectangle shape.  Spread a thin layer of sauce covering almost to the edges.  Sprinkle with mozzarella or an Italian cheese blend.  Spread a single layer of pepperoni over cheese., add any other toppings you like.  Roll dough into a log, tightly.  Cut off 1" to 1 ½ slices.  Lay slices on a parchment lined baking sheet.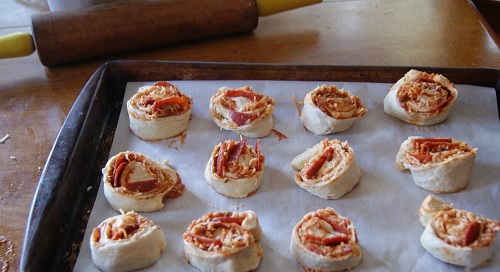 Bake in oven preheated to 400° oven for 15-17 minutes until tops begin to brown.  Pack with a small cup of sauce for dipping.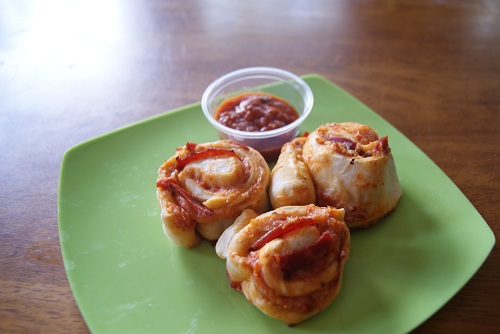 View the Recipe Index for a complete list of recipes. For the most recent vegetarian recipes posted on the blog, go here. To view all the recipes post on the blog, go here.