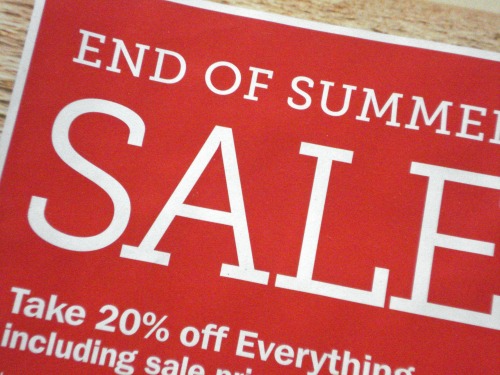 When you are trying to save money and stay frugal with clothing, there are certain mistakes that are common to shoppers. Going "fad" crazy is one good example. The irony is that people are trying to develop their own style…by buying into the latest expensive trends. True style doesn't come with a brand name. If you want to display your originality, you're going to have to be original. On the other hand, if you really feel like you have to have brand names, just be smart about it.
Resale Shops
For brand name clothes that you can afford, try visiting resale shops. You can even find clothes with the original tags on them. Some people are just compulsive shoppers who never wear what they buy. Why not benefit from it? You might also try online auction sites, Ebay and places like Craigslist.
Keep it Simple
When you buy a shirt or pants, don't get sucked into purchasing a million accessories. While some accessories are a good thing, buying too much can leave you with a closet full of items you will never use. Frugal clothing choices include keeping the main items simple. You can create hundreds of looks with something as simple as a decent t-shirt. Add a scarf. Sew on some beads. Wear a shirt under it. Wear a vest over it. In other words, give your t-shirt a fresh new look every time you wear it by adding your own details. Do the same thing with your other clothing and accessories. You can even dress up your shoes. Sew on a button or paint the stem of your heel a different color.
Swap Clothes
You are never too old to share clothes with a sibling or friend. You can even trade for keeps. In fact, you can even use a monthly online plan to swap out clothes every month. One month costs less than a decent pair of jeans and you get a whole new wardrobe for the month. It's like the Gamefly of the clothing world. You get plenty of options for a very affordable cost.
Accessorize
Instead of making your clothing the main thing you pay attention to, use your accessories. You can buy cheap jewelry and accessories all summer long at yard sales. I love My Cents of Style as a great place to shop for inexpensive accessories. You can take them apart and change them around to make something new or use the items as you choose. Just remember to use them often. A few colorful or stylish accessories can dress up the plainest of outfits.
You don't need a large wardrobe to have an excellent one. You just need to add your own flair and creativity. When you make simple choices you also make the choice to dress it up or keep it simple. Then your wardrobe doesn't just reflect your style. It reflects your mood as well. In the meantime your frugal clothing choices help you maintain a budget to reflect the lifestyle you want to live.
Did you enjoy this post? Find more money saving tips here.