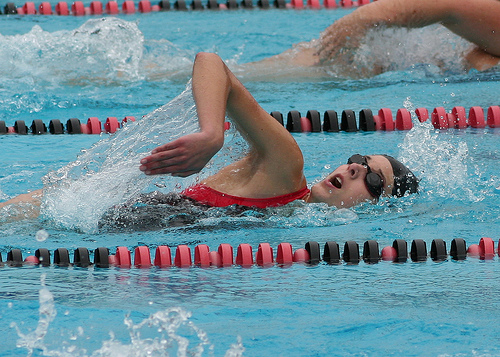 Swimming is one of my favorite things to do every summer!
Did you know, according to Swimming Pool Fun Facts Online, "An hour of vigorous swimming will burn up to 650 calories. It burns off more calories than walking or biking."
In order to get a good swimming workout, it helps to know the terms!  This 3-minute video with All-American Swimmer, Dan Kutler will teach you the four basic strokes including: Free Style, Back Stroke, Breast Stroke, and Butterfly (Fly).  If you are swimming in an Olympic-sized pool, one trip down the lane is equivalent to 50 Meters.  So if you are swimming 100 Meters, you'll swim down and back one time.
You can try these workouts for beginners, intermediate, advanced or Tri-Athalon Athlete swimmers by Fitness Online, Insider's Guide to Swimming: Pool Workout.

Don't have access to an Olympic-size pool?  No Problem!  Your back-yard pool will work just as well!  You can watch and learn from these instructional videos, Basic Aqua Fitness & Pool Workouts by Jamie Smithers:

Don't forget to have some fun!  Enjoy your Friday!
Photo Credit: Jim Bahn