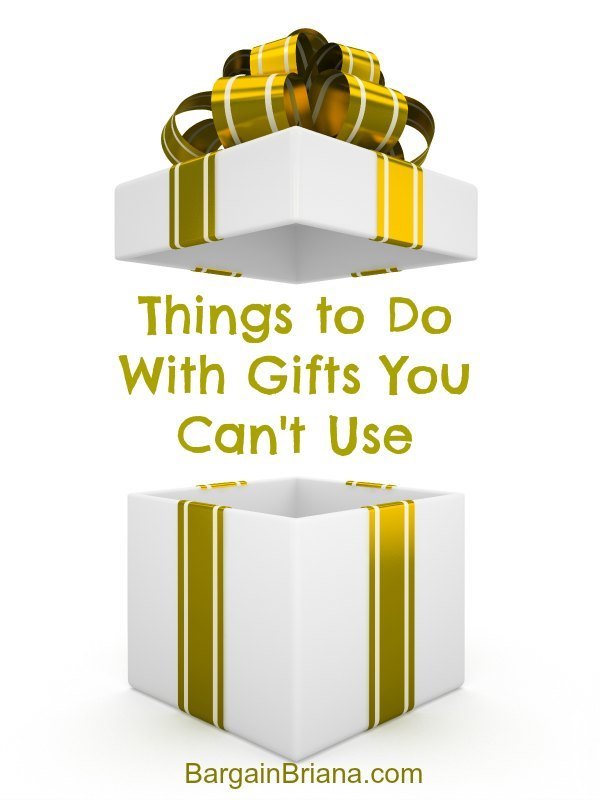 It happens every Christmas: Someone gives you a gift and it's something that you just can't use. Don't throw that gift in the closet and forget about it. Do something more purposeful with those gifts so they don't go to waste. Check out these ideas for things you can do with gifts that you can't use.
Donate to Charity
A great thing to do with those gifts you have no use for is to pass them along to someone who really can use them. Check with local charities or ministerial alliances in your region to see if they can pass along the item to someone else. Some charities may operate a thrift store and funds from sales go toward helping people in need, so you may be able to donate the gifts to be sold.
Repurpose
Give some thought to ideas to use gifts for other purposes. Just because the gift is originally meant for one thing, doesn't mean you can't use it for something else. That really large purse you were given may not be your personal preference for a daily handbag, but as a laptop bag, a book bag, or even an airplane carry on, it might be perfect.
Re-use Portions of the Gift
Is there any part of the gift that you can use? You may be able to re-use portions of the gift for a totally different purpose. Before discarding the gift or putting it away, think a bit about how you could make use of any parts.
Return Items for a Gift Card
If you really can't use an item you get as a Christmas gift, you always have the option to return it to the store it came from in exchange for a gift card. You may be able to tell quite easily where the gift came from, but if you're not sure, simply go into a few local stores that are the likely suspects and see for yourself. You may be able to take the item to the return desk at the store in question and ask them to check for you. If the person who gave you the gift included a gift receipt, then returning it will be even easier.
Save for Regifting
Another option for a gift that you just can't use is to save it for regifting later. You may be able to give the gift at another holiday get-together, give it for a birthday or other special occasion, or save it for the next Christmas.
It truly is the thought that counts when it comes to gifts, but sometimes the thought is more meaningful to you than the gift itself. When you can't use a gift you can find something else to do with it that won't mean putting it away and forgetting about it.
What other ideas do you have for gifts you can't use?