The holidays and yummy baking treats are synonymous for me. I love some delicious treats! I was sent a few products from Good Cook to try out for the holidays as part of the Sweet Creations by Good Cook line. You can enjoy the experience of baking as well as DIY projects and crafts! Sweet Creations is taking edible gifting to an entirely new level!
The GoodCook.com provides so many unique and functional kitchenware products that are easy enough for even novices like me to use. Better yet, the prices are very reasonable for their molds.
Using the Brittle and Bark Mold (on sale for $8.12) is seriously so easy – even I was able to make pretty treats using it. These would be a super simple gift idea or to make for your holiday party. Trust me – they are delicious too. I may or may not have eaten half of these already myself.  I have to test them out, right?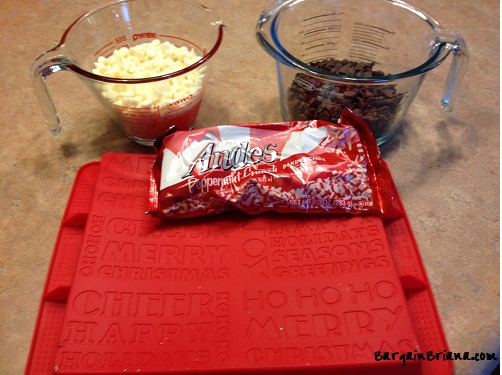 You will need 1 1/2 cups of white chocolate morsels, 1 1/2 cups of chocolate semi-sweet morsels, 2 teaspoons of vegetable oil,  and crushed peppermint.  I used the peppermint baking chips which gives the bars a softer taste. The peppermint blends in better and doesn't stick to your teeth like traditional peppermints.
Then melt the semi-sweet morsels in a microwave safe dish in 30 second intervals until creamy. Stir in 1 teaspoon of vegetable oil. Pour into mold. Do the same with the white chocolate. Use a toothpick or the end of your spoon to twirl the chocolates together to give a swirled effect.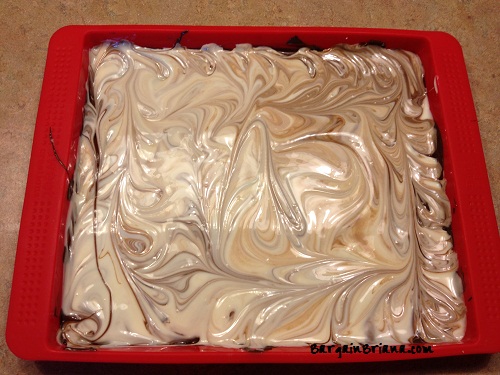 Top with crush peppermints.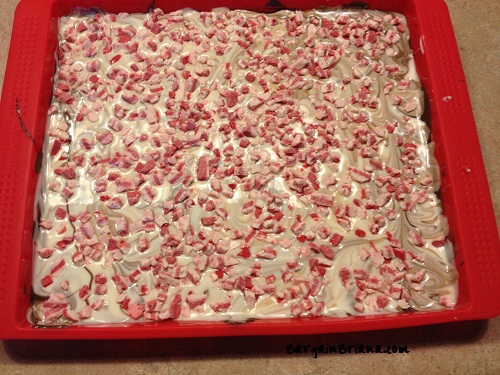 Place flat in the freezer for about 30-45 minutes. You are able to easily just pop these out because of the non-stick silicone mold. Then you can break apart the molds on the lines. So simple! Really – it's simple. I'm guessing that anyone who would see this would think I spent hours slaving over the stove!
Mix it up by using any other kind of chocolate morsels that you would like! Try dark chocolate, milk chocolate, whatever chocolate suits your needs.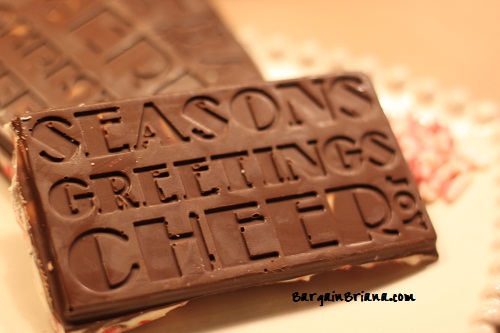 I can simply wrap it up in this pretty parchment paper from Good Cook and give to friends & family!
I will be tackling these cookie molds next – Christmas Tree (on sale for $3.24) & Gingerbread House (on sale for $3.24).  Sofia is really wanting to try this because apparently she learned all the ingredients for Gingerbread cookies on a recent school field trip. I'll post some pictures of those after we experiment!
Read more reviews from Bargain Briana or at the Buzz by Bargain Briana.
Products were provided by Good Cook in order to facilitate this review. Post was written 100% by me and was not edited by the sponsor. Read more on my Disclosure Policy.