Oh my, these Marshmallow Popcorn balls are so delicious and so easy to make! A dangerous combination in my household. I decided to make these festive for the upcoming fall season but you could easily customize this for any holiday. It's a versatile recipe and only limited by your imagination.
Good Cook sent over a fun package of items that we might need to make our own popcorn balls. Of course the package included the Good Cook Popcorn Baller as well as the the candy thermometer, spatula, Halloween treat bags, stainless steel mixing bowl, large red bowl, as well as a saucepan. I'm such a kitchen nerd as I get excited for new, fun stuff in the kitchen! Oh and the Popcorn Baller had a coupon for a FREE box of Jolly Time popcorn in it! We love free! :)
GoodCook.com is giving away FREE Popcorn and a Popcorn Baller when you enter here.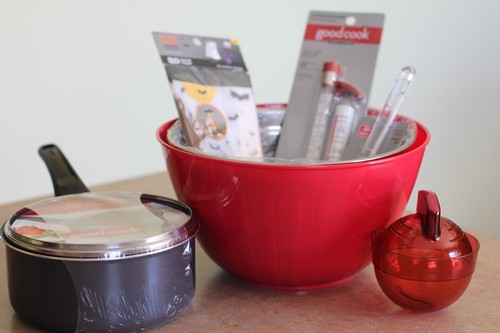 Ingredients needs are very simple, a bag of microwave popcorn like Jolly Time, butter, mini marshmallows, vanilla, and whatever add-ins you want like sprinkles, nuts, dried fruit, candy corn, etc.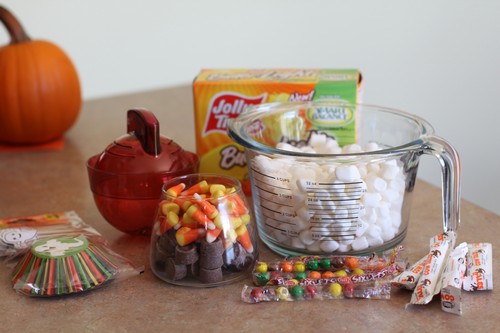 So this is very simple. Pop your popcorn in the microwave. Empty popcorn into a large bowl. Make sure to remove all unpopped kernels.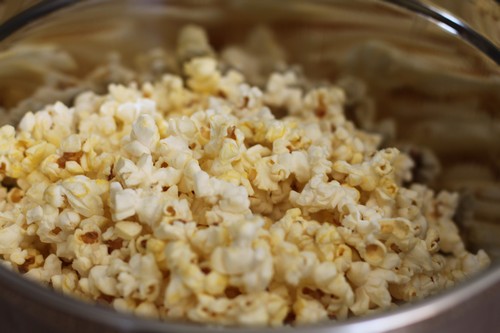 In the microwave or in a saucepan, melt the butter. It is about 30-60 seconds in the microwave. Then add in the marshmallows.  Microwave 90 seconds or cook on low heat until marshmallows appear puffy. Add vanilla and stir well. You can add food coloring at this time if you want to add a specific color to your popcorn balls.
Pour the marshmallow mixture over your popcorn. Stir to coat until coated well.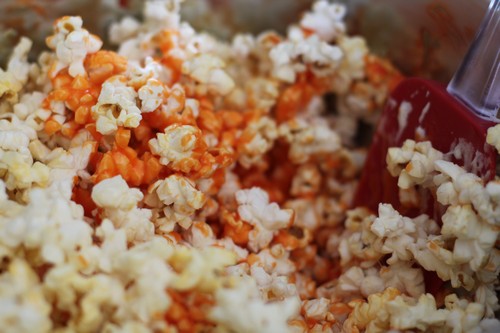 I then sprayed my hands with non-cook spray so that the mixture would not stick to my hands. I put a handful in the Good Cook Popcorn Baller.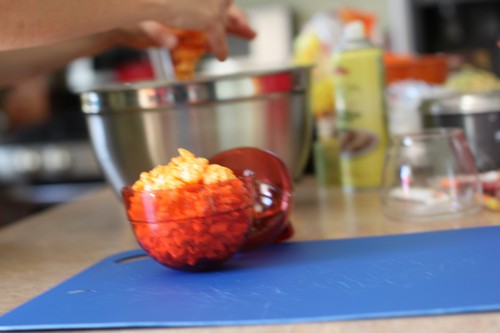 At this point, I realized I wouldn't be able to take photos with my camera so I recruited my 7 year old!
Then you put the lid on the baller to round out the top.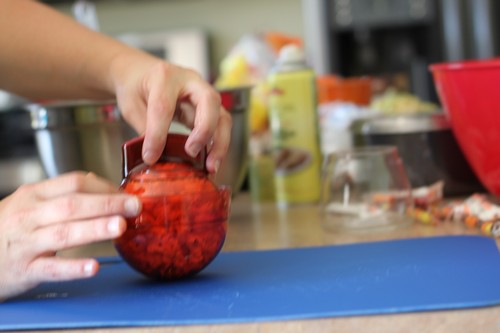 Then simply press the little lever on the bottom to remove your popcorn ball from the baller.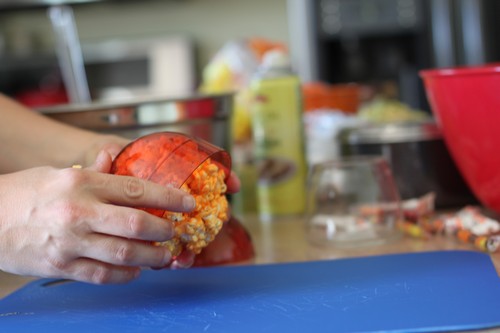 Super simple!
Then decorate as desired! We used Rolos on this variety to make Mini Pumpkin Marshmallow Popcorn Balls.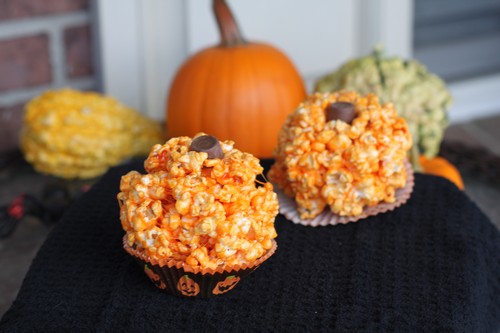 Then we added candy corn to this mixture, rolled the top in Halloween sprinkles, and topped with these fun spooky ghost cupcake toppers I found!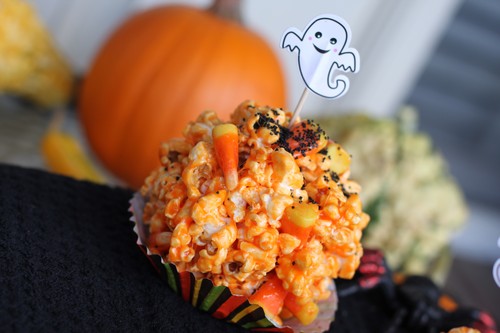 Let me tell ya, these are delicious. If you are craving sweet and salty, this is for you! My kids said they tasted quite a bit like rice krispy treats but I found they weren't quite as sweet but they were plenty sweet. I will be making these again!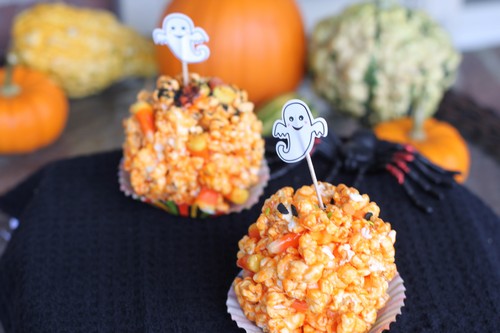 Want the Good Cook Popcorn Baller for yourself? Save 25% off with this coupon code POPCORN at checkout.
Stay up to date on the latest Good Cook news and promotions by following @GoodCook or on Facebook.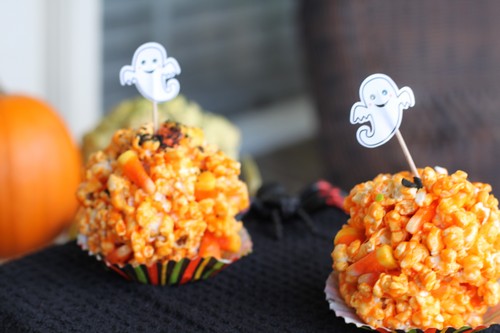 Print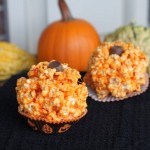 Halloween Marshmallow Popcorn Balls
---
1

bag microwave popcorn

1/3 cup

butter

4 cups

mini marshmallows

1 teaspoon

vanilla extract
toppings and fillers as desired!
---
Instructions
Cook popcorn per directions.
Transfer to large bowl and remove all unpopped kernels.
Put butter in a microwave safe dish, microwave on high for 30-60 seconds until melted.
Add marshmallows. Cook an additional 90 seconds or until puffy.
Stir in vanilla and food coloring if desired.
Pour marshmallow mixture over the popcorn. Stir until coated.
Form into popcorn balls using the Good Cook popcorn baller or by hand.
---
Recipe Card powered by
Products were provided by Good Cook in order to facilitate this post.  Jolly Time popcorn provide complementary popcorn for the event.  Rest assured, this Post was written by me and was not edited by the sponsor. All opinions are my own. Read more on my Disclosure Policy.
View the Recipe Index for a complete list of recipes. For the most recent vegetarian recipes posted on the blog, go here. To view all the recipes post on the blog, go here.