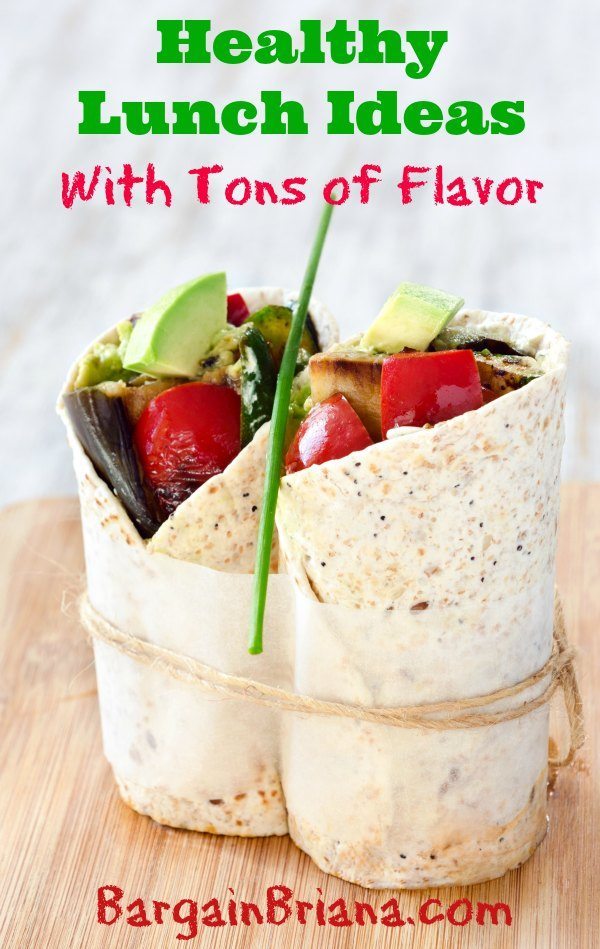 It's not easy to eat healthy when you're busy. When you're on the run in the middle of a hectic day, it seems simpler to grab some greasy food from a fast food drive through or snarf down a candy bar. Don't blow your healthy lifestyle by eating a junky lunch. Check out these healthy lunch ideas that are both yummy and good for you.
Tuna Wrap
Use 1 whole wheat wrap, tortilla or pita pocket, mix 1/2 can tuna (water packed) with 1/4 cup of plain Greek yogurt. Add to this mix half of a celery stalk (chopped up), then add 3 slices of red peppers (roasted) and a handful of baby spinach. Add a squeeze of lemon juice, then put it all into the wrap, tortilla or pita pocket to create a wrap. Add a snack of 1 cup of fresh fruit. Super yummy and low calorie.
Turkey Wrap
Turkey is an excellent choice for lean protein — plus it's quite tasty. Use 1 whole wheat wrap, tortilla, or pita pocket for this delicious lunch. Add 3 slices of turkey from your favorite deli, 1 tablespoon each of goat cheese and hummus, and a handful of baby spinach. A cup of fresh baby carrots is a great snack to go along with this lunch.
Black Bean Burrito
Here's a healthy and delicious spin on a spicy burrito. Take 1 whole wheat tortilla and add 1/4 cup of black beans (drained). Slice up 1/4 of an avocado and add to the beans then slice up 1/4 of a small-sized red onion to add. Next throw one 1 teaspoon of hot sauce and you've got a delicious burrito with a spicy bite. Snack on a few chips with salsa and enjoy your own little healthy fiesta for lunchtime.
Mix and Match Meals
If you're wanting to do some healthy eating for your lunchtime meal, consider doing a little mixing and matching. Put together your own meal with a few of these healthy eats.
Choose a container of Greek yogurt, a cup full of fresh fruit, a few peeled baby carrots and a tuna wrap, turkey wrap or burrito from above. Throw in a bottle of water or some green tea and you've got the beginnings of a healthy lunch.
Consider a banana for a snack with your meal, a stick of string cheese, a few sprigs of fresh broccoli or some other fruits and veggies. If you want something crunchy or salty for a snack, grab a handful of some pita chips, some pretzel rods, or some popcorn (hold the butter!).
Healthy eating doesn't have to mean starving yourself or eating food that tastes like cardboard. Try a few of these suggestions or research some ideas and create a few goodies of your own.
Did you enjoy this post? Find more money saving tips here.