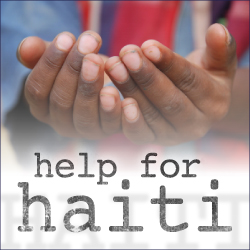 I've been glued to the cable news stations the past few days watching what is happening in Haiti.
We all watch and wonder what can WE do to help? The situation is very dire in Haiti. Help wants to come but even help is having a hard time because of the logistics.
It is heartbreaking.  There is always hope in these situations to see people coming together, putting aside their political differences, and helping others.
There are many ways to help. Even if you think you don't have much, you can make a difference.
How?
Give. Even if you only have a few dollars to give you can help make a collective difference.
Pray. Prayers are absolutely free and the people of Haiti need them. No matter what God you believe in, please pray for the people in Haiti and the people helping in Haiti.
Blog. Now is a time we can show the power of social media (blogging, Twitter, and Facebook) and use it for good!
Crystal Paine, Money Saving Mom, is donating $10 to Compassion's outreach in Haiti, for each person who blogs about what they specifically did to help those in Haiti and leaves their blog link on her post.
Mercedes, Common Sense Money, is donating $0.25 per comment on her post for Haiti.
Erin, $5 Dollar Dinners, is donating $5 per comment or link.
In addition, leave your Help for Haiti blog link on this post today (1/15), and I will personally donate $5 to Food for the Poor when you leave your blog post about how you are helping. If you don't have a blog, leave a comment and I will donate $0.25 for each comment. (up to $500 total)