I seriously was about to give up on House Party. I had applied and applied and never was picked! This post has even been sitting as a draft in my dashboard since 7/22.
But the wait was worth it…because they were waiting to give me a fabulous one! I was picked to do a Canon House Party for their "Get Creative with Canon" campaign. They are promoting their new portable printing device the Canon Selphy CP770. I haven't taken it out of the box yet but I will in the next couple of days and let you know what I think about it! I will also be doing a giveaway since not all my readers can come to my party and receive one of the goody bags!
So what is a House Party? It is all sorts of different campaigns. You sign up for the campaigns you are interested in. If you get chosen, you will get a package of goodies for you and your guests depending on the campaign. You will then have a party on a set date and showcase that product/show/etc. There are some really fun House Parties going on. House Party also has event pages where you can show pictures of your planning, party, favors, etc. Obviously, they want us to market their product but in the process we get free goodies!!!
Here's what my package looked like – they give you enough materials to give goody bags for 10 people. (I get to keep the printer, though!)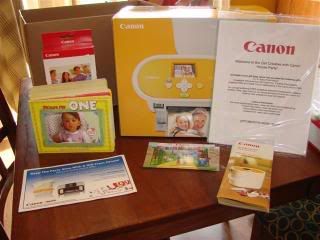 If you are interested in hosting a House Party, go check out their upcoming events and apply for one!
Maybe, you will be picked for a really fabulous one! So upcoming ones include Saturn (get to borrow a new Saturn for a day to show off to your friends!), BH & G Cookie Swap, Ford Warriors in Pink, and Coming Soon – Arm & Hammer!