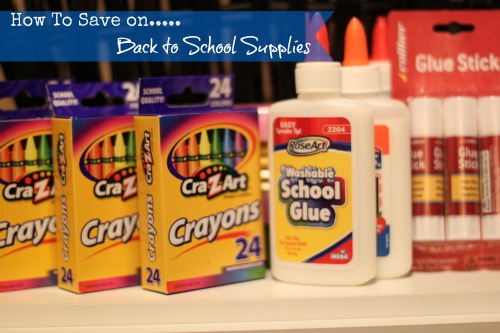 Back to school shopping is stressful and expensive! Not only do you have to worry about new school clothes but back to school supplies as well! Schools are now asking parents to purchase more and more items! If you have multiple children in school these expenses can add up very quick!
The list of school supplies needed just gets longer and longer every school year. Some of items you will want to start thinking about are book covers, pencils, pens, crayons, backpacks, lunch boxes and much more! Some schools are now asking parents to supply paper, hand sanitizer, tissues and even snacks for the class.
Working this never-ending list of back to school supplies into your budget can be challenging to say the least. I have some tips that will help you keep your budget in tact this year!
Avoid Last Minute Shopping
One of the best ways to save on back to school supplies is not waiting till the last-minute to do your shopping. Give yourself time to check out all of the different promotions going on. Make sure to pay close attention to the store circulars you receive in the mail. Waiting till the last-minute doesn't allow you to take advantage of rock bottom sale prices. Stores will start marking up prices right before school starts, they do this because they know consumers have no choice but to buy these items. Do not let the store dictate how much you spend on your back to school supplies.
Shop Online
Amazon, Walmart and other sites are great resources to get your back to school shopping done. If you watch your favorite sites closely you will find that they offer several deals on back to school supplies.
Online retailers are known for offering flash promotions on back to school items. If you want to ensure you don't miss out on one of these sales, sign up for the stores newsletter!
Shop Around
A lot of consumers do their back to school shopping at Target, Walmart or other big boxed retailers. Do not discount looking into stores like Staples, Office Depot and even thrift shops!
Staples and other office supply stores will often drop their prices significantly right before school starts. More times than not these stores will have lower prices than Target and Wal-Mart. Make sure you pick up a store circular for your local office supply store.
Thrift shops are another great place to find discounted back to school items. The Goodwill usually has back to school supplies that have never been used before!
Use the Bargain Briana Back to School Lists
Each week we post on BargainBriana.com the best of the Back to School deals for all the major stores!