"What's for dinner?"
How many times do we hear that a week? My answer is usually, I don't know. I try to be organized but sometimes that doesn't always work as life gets in the way. So we usually dig through our cabinets and freezer to find something. Of course, what we are looking for is never in the right place. I usually know I purchased it but it is a scavenger hunt trying to find it. The perils of an over abundant stockpile, I guess.
Due to the current economy, more of us have been cooking at home instead of grabbing something out for dinner.  Mealtime.org has all the tools you need to run your kitchen smoother. Meal planning and kitchen organization will help save you money and help to eliminate a little stress when you have the right tools.
Some of the tips include ways to maximize your space if you are short on space, safe storage, and much more! Sometimes all it takes is one or two simple thing to make a huge difference. Utilize your local dollar store to find cheap small baskets, bins, and other items to organize your space.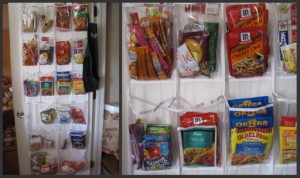 Our pantry is not huge. We have one so that is a start.  I've tried to maximize the space in our pantry as much as possible. I recently bought one of those shoe organizers for the door to put over the pantry door and I've put all of our mixes, packets, and other loose items to try to maximize space. This has also made it easier for me to find the things I need. This one small change has made a huge difference in my pantry space.
"Perk Up Your Pantry" Tips
Arrange food so that you can see them.
Designate storage space and group similar foods together.
Save space.
Use bins, baskets, and drawers.
Make it easy for your family by labeling the containers so your family knows where to put away your groceries.
I haven't cleaned out my spices cabinet for awhile either so I decided this was something I could do in 30 minutes or less. Basically it consisted of adding another riser on one shelf and rearranging the spices so the ones we use often were in front for easy access. I also found a few things that needed to be thrown out because they had been in there too long or it was something I no longer needed. It is a small change but I think it looks much better and will be more functional.