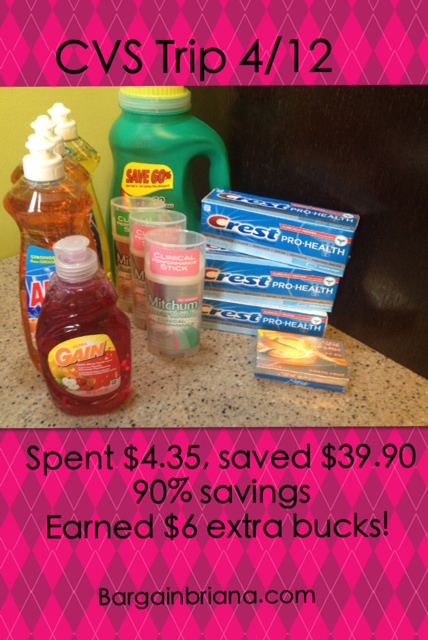 CVS is one of my favorite places to shop for personal care and household items because of their rich store reward program called Extra Bucks! As if you didn't know that! :) We are getting low on some personal care items like toothpaste and deodorant so I decided to do a quick CVS trip.
I will say right now my coupons are a mess because we've been on vacation and super busy! However, I was able to find what I needed quickly before my trip and I printed out a coupon or two too! I also had a few Extra Bucks on hand from a previous shopping trip.
The first thing I do when I go to CVS is scan my card on the magic coupon machine! I received several relevant coupons as well as a $5 Extra Buck (from the Beauty Club program) and  a $7 Extra Buck from Winter Spending.  I didn't use either one of those Extra Bucks this trip, though!
Here's my shopping trip details:
(2) Stride Gum @ $1/each = $2
(3) Ajax Dish Liquid @ $0.88 = $2.64
(1) Gain Dish Liquid @ $0.88
(1) Xtra Laundry @ $1.99
(3) Mitchum Deodorant @ $1.99 = $5.97
(3) Crest Prohealth @ $4.29 = $12.87
Use $1/2 Stride Gum from 4/7/2013 SS Insert
Use (3) $1/1 Mitchum from 3/17/2013 SS or 4/7/2013 SS or printable
Use (3) $1/1 Crest Toothpaste from 3/31/2013 P&G Insert
Use $1 off $5 Deodorant purchase (CVS Coupon) Use $1 of Xtra (CVS Coupon)
Use $3 off $10 Toothpaste purchase (CVS Coupon)
Use  $10 Extra Bucks from previous trip
Pay $4.35 out of pocket + Sales Tax
90% Savings!
Earned $6 Extra Bucks to use on another trip!  ($5 from spending $10 on Crest & $1 for the Stride Gum)
Find more CVS Weekly Deals here.