This post was sponsored by Regions Bank.  All opinions are my own.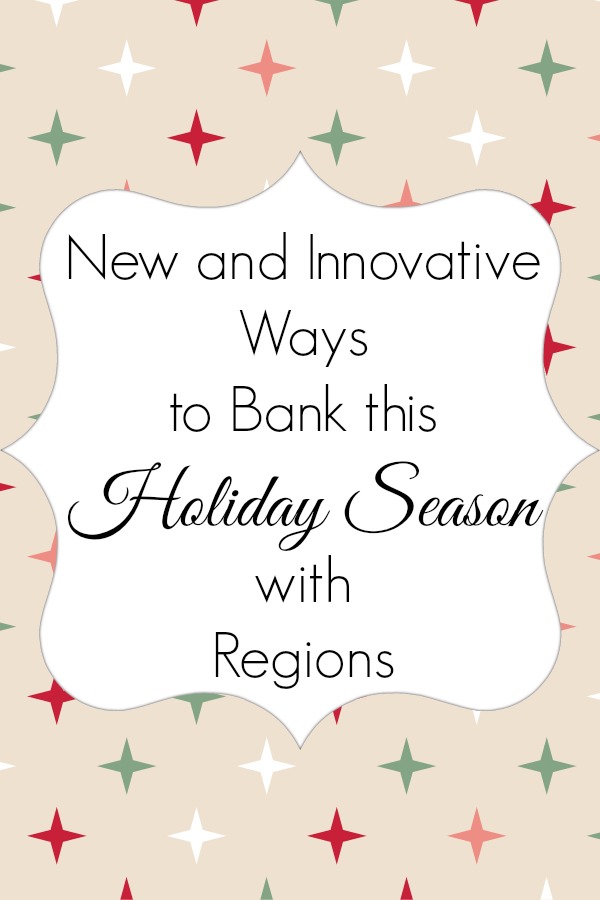 The holiday season is a busy time for shoppers. This means we don't have time to write a check or count out cash while checking out at the store. We now live in an age where we don't have to rely on these outdated payment methods. At Regions, they are always looking to bring their customers new and innovative ways to bank.
This holiday season mobile payments add simplicity, convenience, and security to shopping. Regions now brings you the convenience of tap and go technology with Apple Pay® and Android Pay™. Regions also offers Visa Checkout, which is a fast and easy way to make your online purchases during the holiday season.
More often, we are doing a majority of our shopping online. Visa Checkout is a convenient option that reduces the amount of time you have to spend filling out online forms when you shop. When shopping for a deal that might sell out quickly, this is the perfect form of payment online to ensure you don't lose valuable time by inputting your credit card number. Visa Checkout works with your existing credit or debit card. Enroll in Visa Checkout and start making fast and easy checkout purchased when you make online purchases at participating merchants.
The security features provide you with the confidence that your personal and payment information is more secure. Certain card users will see extra security prompts put in place by their financial institutions to confirm they are the authorized cardholders. This helps reduce the risk of fraud on their accounts. Use it with online vendor that accepts Visa Checkout when checking out with your tablet, smartphone, or computer.
Most of us always have our phones on us, but don't always carry a purse or a wallet. Apple Pay® and Android Pay™ allow you to pay using your smartphone device without even needing your card once it's been added. Just add your Regions card to either of these payment options to start using this convenient payment method.
Regions offers the option of customers to use Apple Pay® when you make purchases at participating merchants by simply using the Touch ID on your iPhone® by placing it near the merchant's card reader to authorize your payment. You will receive a unique account number for your device, so merchants do not receive your card number. Look for the Apple Pay® or the contactless symbol at the checkout counter.
If you have an Android smartphone, you also have the option of using your smartphone to pay using Android Pay™. Using just the touch of your mobile device, you can quickly and easily make payments at participating merchants. Your device doesn't store your actual card number and instead uses a virtual account number to represent your card information. Android Pay™ is accepted at over one million stores across the United States.
During the holidays, we often dine out with friends. Usually it is easier on the server for one person to pay with their credit card and everyone else pay that person with cash. But who carries cash around these days? With Regions Personal Pay®, Regions Online Banking customers can easily pay friends and family for items like dinners, gifts, or fundraisers. Send money in as little as a few business days to your family and friends with only an email address or mobile phone number or an account number. They receive an email or text message to let them know that you have sent them a payment. They just register for Popmoney®[i], which powers Personal Pay®, with their bank account information to receive the funds. There is a charge of $1 each time you send a Personal Pay® payment. There is no cost to receive funds.
I'm loving all of these innovative and convenient ways that Regions offers their customers to pay this holiday season. Having the options of Visa Checkout, Apple Pay® , Android Pay™ , and Regions Personal Pay® will make it easy and fast to make payments this holiday.
[i] Pop money® is a registered trademark of Fiserv, Inc.
This is sponsored by Regions Bank. All opinions are my own. Read more on my Disclosure Policy.