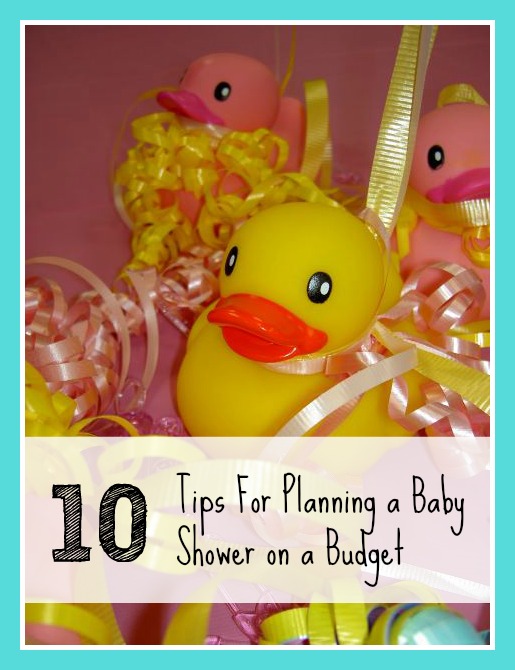 With baby on the way, there is so much excitement and a baby shower is usually the center of it all in the celebration of the new little life. Planning one can be pricey, but it does not have to be.
Let's look at 10 ways you can throw an amazing shower for the mom-to-be that won't leave your wallet crying like a baby.
Planning a Baby Shower on a Budget
1. Get decorations on sale using coupons. Many big name craft stores offer discounts and loyalty cards that can be used to buy many of the decorations you will need. Plus, you can get craft supplies for making your own and for games at the party. To really keep costs down, go as simple as possible with decorations.
2. For blue decorations for a baby boy if that is your theme, try getting things after Easter. You will find an array of light blue items such as napkins, plates, tablecloths and so on. For pink items, try after Valentine's day for the best selection and sales.
3. Hold the party at a time between meals. This will mean that all you will need to provide is some low cost finger foods such as pretzels and cheese, fresh veggies and dip and nuts. The cake should be the crowning glory of this snack time.
4. Skip a rented venue and plan depending on the time of year. For a summer or spring shower, do it in a public park. For a winter shower, do it in a basement of a friend's home or even somewhere like a bowling alley.
5. Make the cake and favors yourself to save money. For a boy themed party, make a vanilla cake with blue icing, for a girl themed one do the same only with pink. A shower cake does not have to be a three-tiered masterpiece. For favors, just hunt on Pinterest for some amazing ideas. Or, you could skip favors all-together as they are not usually that important anyway.
6. E-Invites are not really a new thing, but they are becoming more commonplace now. Save yourself stamps and envelopes by sending invites via email or social media invites. Just make sure to ask guests to RSVP and do follow-up calls to see who is actually making it to the shower. If you are going to order invitations online, I suggest checking out the deals at Shutterfly and Tiny Prints for the best value.
7. Everyone knows baby showers are all about games and prizes. Keep them low cost by getting stuff from the dollar store. You can make baskets with fun beauty stuff in it as well as just hand out candy prizes and candles. Also, check in with places like Michael's. They have a section that has low cost things like stationary, pens, address books and so on.
8. Diaper cakes have been all the rage or a couple years at parties. These can get quite expensive if they are big. Opt for making smaller versions or have guests chip in for the cost of a big one and make it yourself.
9. Another idea for food if you would rather do it at a meal time is to do a potluck style baby shower. Find out what some of the mom-to-be's cravings are an assign some to guests to bring. This would be a great surprise for the new mom to see all her cravings in one place!
10. To help everyone save money on gifts, find out a few large items the mom-to-be still needs and partner up to buy them or everyone chips in a little for a really big gift.
Did you enjoy this post? Find more money saving tips here.