This is one of the recipes I posted on my weekly Pinterest Meal Planning Board. It is based on this recipe I found on Annie's Eats. For some reason, I thought making your own pesto would be a daunting task. I was pleasantly surprised to find out how easy it was!
Roasted Red Pepper & Basil Pesto w/Mushrooms & Penne Pasta
3 cloves garlic
3 oz pine nuts
1/3 cup  Grated Romano or Fresh Grated Parmesan (Again, love the Ninja Chopper!)
1 cup Roasted Red Peppers (I used jarred as this is what we had in our fridge)
1 cup Fresh Basil Leaves
1/3 cup Extra Virgin Olive Oil
Mushrooms
Heavy Whipping Cream to taste
Pasta of your choice (I used penne)
Chop the pine nuts and garlic in a food processor or your Ninja Chopper until finely chopped. Add parmesan, red pepper, basil, salt & pepper (to taste). Pulse until these items are well combined. Add olive oil.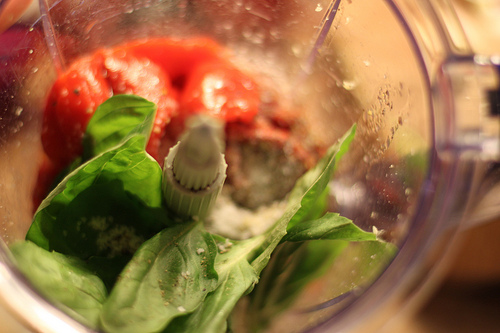 Your pesto will look yummy like this…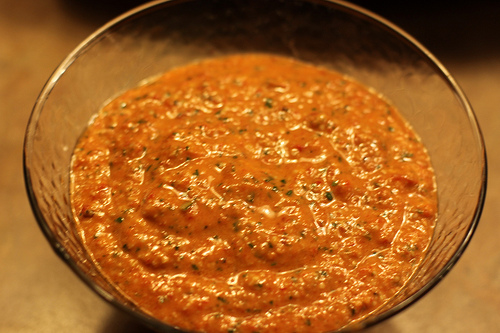 Cook sliced mushrooms in a pan with a little olive oil.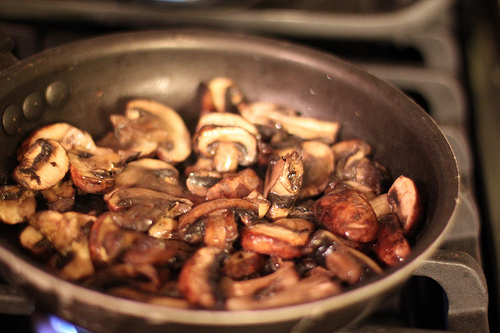 Cook your pasta per the directions.
Add the pesto and mushrooms to the pasta in a sauce pan. Add heavy whipping cream as you desire. I used around 1/4 – 1/3 of a cup.  Heat until warm. Serve with freshly grated Parmesan or Romano cheese.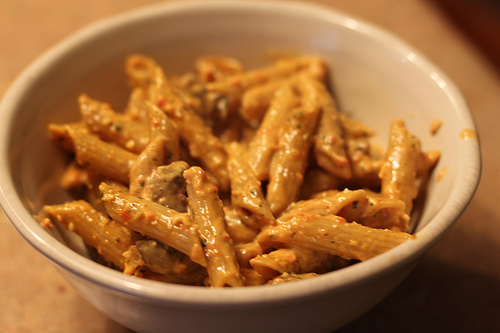 Post Dinner Analysis
This one was great! However, my husband and I both agreed it could be spiced up a bit as it was a little bland. It was still good but we think some red pepper flakes or cayenne pepper would help spice it up for us.
Bonus: My youngest daughter who claims she hates vegetables enjoyed this one. She was a little skeptical because of the mushrooms so I told her I would make sure her plates didn't have any mushrooms in it. She said it was yummy. Little did she know she was eating red roasted peppers!
Freezer Friendly

Freeze mixture without the pasta. Unfreeze and add pasta to the mixture.
Meat it Up

Add chicken.

Meatless Mondays is a weekly feature which will showcase some of my hits and probably misses with living a meatless life. Many of you know I stopped eating meat about a year ago for personal reasons. While, I haven't had any desire to go back to eating meat, it has been a struggle to find healthy foods to eat.
Everywhere you go, meat is the main dish. Since I was new to this lifestyle, it led me to eating unhealthy options. I'm on a path now to cook healthier options at home without meat. While going meatless is a personal choice for me, you can still save money by having one meatless meal a week.
Will you join me on this journey by preparing one meatless dish every week?
If you have any questions about the vegetarian lifestyle, you can read more about it at GoVeg.com.