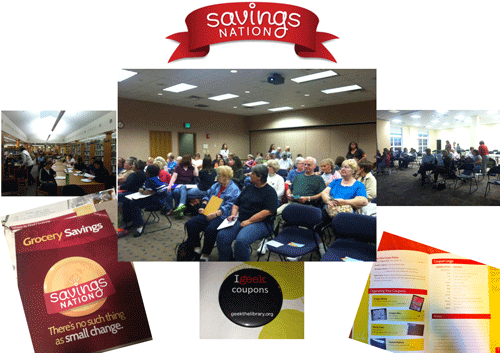 Learn to save 50% or more on your grocery bill every month! It is change that will add up quickly!
Some of the topics covered:
Strategic Grocery Shopping: Learn how to avoid common marketing traps at the grocery store, and shop smarter!
Realistic Couponing: See exactly how coupons work, how you can use them to save at least 50% on your groceries, understand your stores' policies, and keep all those awesome coupons organized!
Meal Planning Made Simple: Get practical help with how to plan out your menu to save the most money while providing healthy meals for your family!
Everyone will go home with a very nice workbook! There will also be giveaways, coupons, and FUN! Please bring any unwanted, unexpired coupons you have to put in my coupon trading box, where you can also pick up some new coupons too.
If you would like to schedule a class, you can get more information by using my contact page. I offer these classes completely free to participants and public venues. If you want a class for a private group, you can contact me for a rate.  Currently, I'm only scheduling classes for venues within 1.5 hours of Tipton, IN.
If you would like me to come to your town or your organization would like to know how you can host a coupon workshop as a fundraiser, please fill out this coupon class interest form.
If you are not local (Indiana) and can't attend one of my coupon classes, be sign to sign up for the daily email newsletter which also gives you 12 FREE Couponing Lessons in your Inbox. This series is a little different than what is available on the website.
Hope to see you at an event!