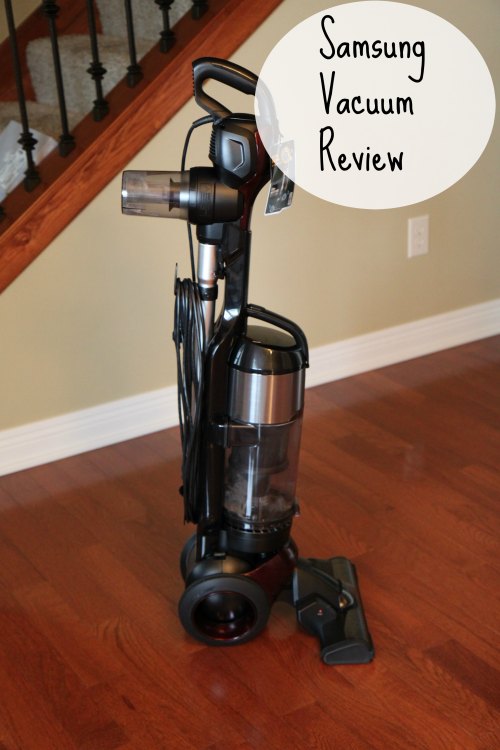 Who gets excited over a vacuum? This gal, this is who! Samsung asked me if I wanted to try out their VU7000 Motion Sync Bagless Upright Vacuum and of course, I said yes! There are so many cool things about this vacuum that I think you will like too!
Ease of Use
The Samsung VU7000 upright vacuum is very easy to use. It is easy to empty the canister, easy to detach, and easy to maneuver when using. It is very easy to transition from carpet to hard floors and back with the just the push of a button. You can turn off the brush roll so you can use on hard floors and then turn it back on for carpets. It has Motion Sync Design™, which is what ensures the easy maneuverability
Detachable Handheld Vac
I've been using this vacuum for a week or so and it has lots of great features, including the fully detachable handheld vacuum. This is absolutely perfect for hard to reach places or to vacuum your stairs. I love that it is detachable from the main unit so you don't have to drag that piece around to struggle to see if you can reach certain spots without dragging the canister up the stairs. Just simply push a button to pull the handheld vac out of the canister. One of my other vacuums isn't fully detachable and I often find it banging into the walls or doors when I'm using it. This is also perfect for the kids to use to clean up their own messes!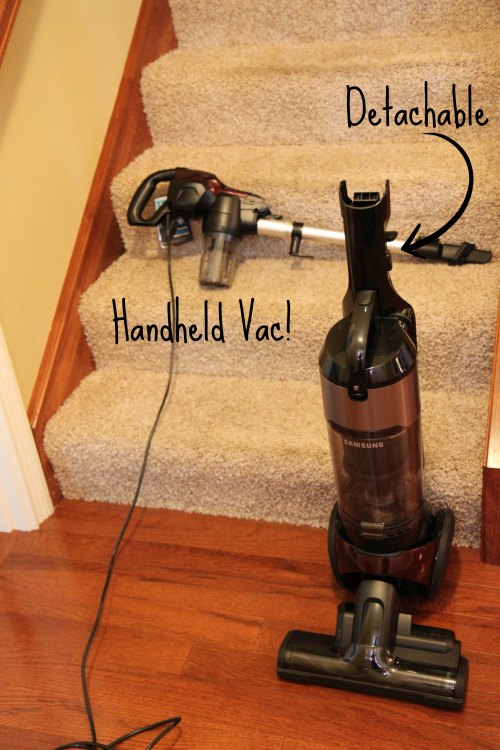 Cyclone Force Multi Separation Technology
Sounds fancy, right? This means it has powerful suction and filters more than 99% of fine dust and debris. With the separation, it means your filter will last longer. I noticed that the vacuum picked up quite a bit of stuff that I didn't see on the surface judging from what was in the canister when I was done vacuuming!
Samsung VU7000 Motion Sync Bagless Upright Vacuum retails for $449.00 and is a powerful and easy to use vacuum.
Read more reviews from Bargain Briana or at the Buzz by Bargain Briana.
Product was provided in order to facilitate this post. Post was written 100% by me and was not edited by the sponsor. Read more on my Disclosure Policy.