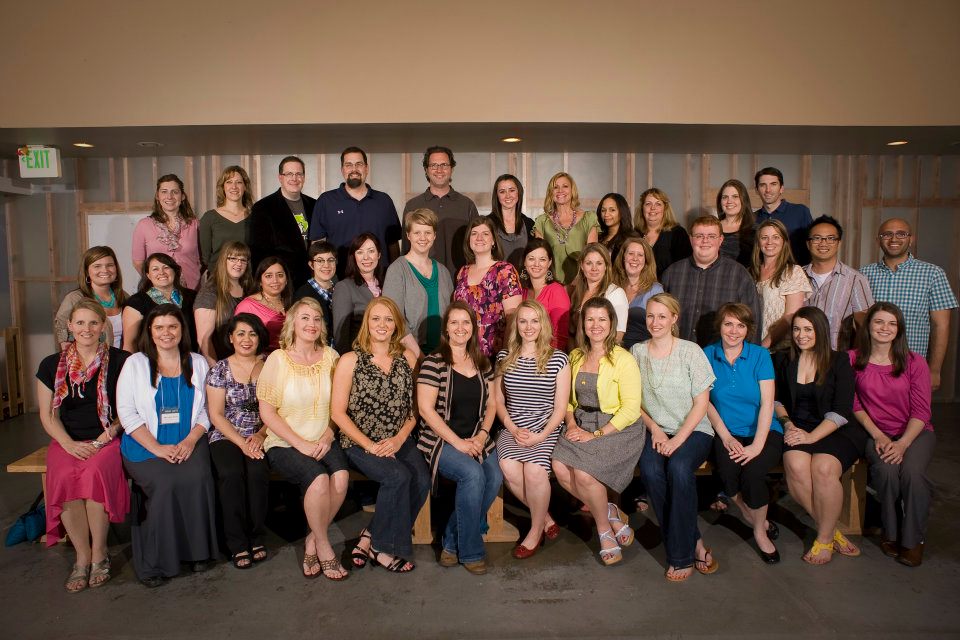 A couple of weeks ago, I headed out to Los Angeles for the Savings.com Deal Pro Event.  This event was the kick off to the Savings Nation Savings workshops I will be offering! It included training on the program, sessions to help our blogs, networking with other bloggers, and of course a little fun mixed in.
If you missed my previous post on the Savings Nations Workshops, I am partnering with Savings.com as one of the first phase DealPro Ambassadors for their new Savings Nation program. Savings Nation is a series of workshops all over the Nation to help you save money and maximize YOUR savings on everyday essentials.  I will be teaching classes in throughout Indiana with a focus on Central Indiana. These classes will help YOU learn to live better on a budget because we believe there is no such thing as small change!
<<—Pictured: Maria, Mitchell, Sara, Andrea, Melissa, Sami, and me
By the time I got into Los Angeles on Thursday, it was around 3 a.m. Eastern Time so I was a little off my game. You don't know how much a three hour time difference is going to affect you until it hits you hard the next morning!  At least I was very motivated to wake up early the next morning so I could take a walk along this….
Yeah, who wouldn't be motivated to wake up when there is BEACH waiting for you! Oh, the beach air and smell!  The brief 45 minute walk along the beach in Santa Monica was all I got at the beach so don't be too jealous! Thankfully, the sessions were fantastic so I didn't feel too deprived by being cooped up in the office all day.
Loren Bendele, CEO of Savings.com, kicked off the event with a warm welcome to all of us Deal Pros…
Toni, The Happy Housewife, showed off the Savings Nation workbooks, which is what all of you who attend the classes will receive! I'm very excited about this professional put together presentation and workbook!
On Friday night, we dined at the Sonoma Wine Garden for dinner and wine. The pumpkin ravioli is delicious!
Melissa (Saving Cents with Sense) and Me
On Saturday night, Savings.com hosted a red-carpet event with a DJ (me + dancing = not pretty), drinks, dinner. There was this thing I thought was a margarita fountain but it was really a lemonade fountain. Now I have the idea that a margarita fountain would be a big hit at any event! ;) Better yet, they brought in a ice cream sandwich truck, Coolhaus for a yummy treat.
The event itself was fantastic. Getting home was another issue! About 20 minutes into the flight, the pilot came on the intercom and gave us news that you don't really want to hear on a plane, "Sorry folks, I have some bad news for you.  The landing gear hatch is stuck and we are going to have to turn around and go back to Los Angeles. It's nothing to worry about but we are going to have to turn around as we can't fly with the wheels hanging out." (the technical stuff is paraphrased – I just heard Bad News.Landing Gear.Have to turn around.)
About 45 minutes of circling the airport, where we were probably dumping fuel, and getting closer to land on each rotation, we landed at LAX greeted by emergency personnel, which seemed to surprise my fellow passengers. HELLO people, the pilot did say we were having landing gear issues, whether or not it was because it wouldn't tuck up into the airport or not, I still thought it could be an issue when we landed.
We did make a safe landing, obviously, which was fabulous, but it did affect my travel plans. I think I was awake for about 36 hours before I finally made it home. I think I'm still trying to catch up on that sleep to this day!
Oh, and they did give us a $6 meal voucher from the ordeal! I'm very grateful that we didn't crash but I considering it took me an additional 14 hours to get home, I would have thought some type of compensation was appropriate. Of course, I emailed my airline and they did offer a $75 travel voucher and some miles for my inconvenience. It never hurts to email companies when you are satisfied with their service or in this case dissatisfied. 
This did not put a damper on the Savings.com trip, though. Even completely exhausted, it was fun to hang out with some of my long time blogging friends and meet new friends too!
A special thank you to all of the Save Up '12 sponsors:
CowBoom.com
Ghirardelli
HP
McAfee
Andrea, Jen, Erin, Melissa, Mindi, and me
Interested in a coupon class? You can find more information about the Savings Nation classes or see a calendar of upcoming events. If you would like me to come to your town or your organization would like to know how you can host a coupon workshop as a fundraiser, please fill out this coupon class interest form.
Photo credit to John of Cizmas