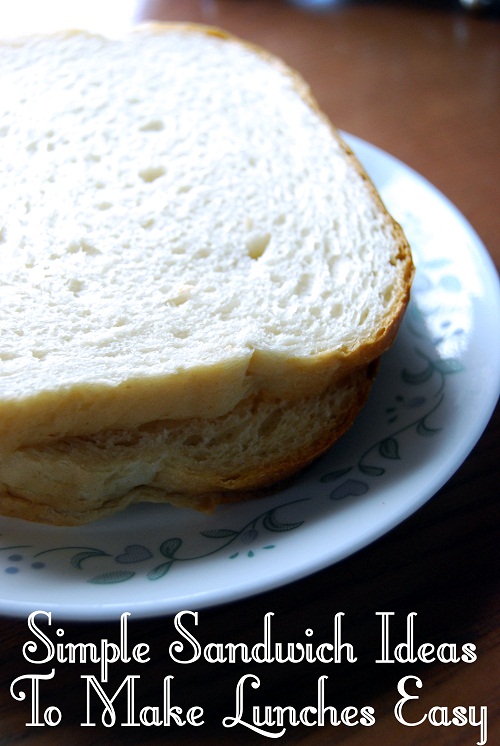 You know that after the first week of peanut butter and jelly sandwiches, lunch is going to start to get boring for your son or daughter. Why not whip them up something special and something different every day of the week? Here is a great list of simple sandwich inspiration. No more boring school sandwiches!
Check out these deals on sandwich keepers to keep your sandwich fresh and prevent it from getting smooshed in your lunch bag.
Simple Sandwiches to Make School Lunches Easy
Peanut Butter and Honey
Peanut Butter and Banana
Peanut Butter and Brown Sugar
Peanut Butter and Marshmallow Cream
Bacon, Lettuce, and Tomato
Turkey and Cranberry Sauce (Thanksgiving Leftovers!)
Ham Salad
Egg Salad
Tuna Salad
Chicken Salad
Ham and Swiss Cheese
Cream Cheese and Strawberries (or Strawberry Jam)
Mayonnaise, Cheddar, and Tomato
BBQ Chicken
Hummus and Cucumbers
Cream Cheese and Roasted Red Peppers
Chicken and Sweet Potato
Cream Cheese and Apple
Peanut Butter and Apple
Eggs and Bacon
Crab and Cream Cheese
Salmon and Cream Cheese
Mozzarella Cheese, Tomato, and Pesto
BBQ Shredded Beef
Peanut Butter and Cucumber
Avocado and Mayonnaise
Cucumber and Tomato
Turkey, Lettuce, Tomato, and Bacon
Cheddar Cheese and Tomato
Egg and Salami
Cooked Beef and Caramelized Onions
Ham and Coleslaw
Pastrami, Lettuce, and Cream Cheese
Turkey and Stuffing (Another great holiday leftover sandwich!)
Chives, Tomato, and Ricotta Cheese
Banana and Strawberry Jam
Cream Cheese (or Cottage Cheese) and Sprouts
Honey, Jam, and Apple Slices
You could also dress up a boring sandwich by putting it on something other than regular sandwich bread. Here are a few ideas for bread:
Bagel
English Muffins
Hamburger Buns
French Bread
Potato Rolls
Flour Tortillas
Pita Bread
Biscuits
Frybread
Sourdough
Crackers
As you can see, there is plenty of sandwich inspiration here! No one should have to go to school or to work with a plain sandwich from now on. Which one of these yummy sandwich combinations will you make first? What is your favorite different sandwich filling?
Did you enjoy this post? Find more money saving tips here.