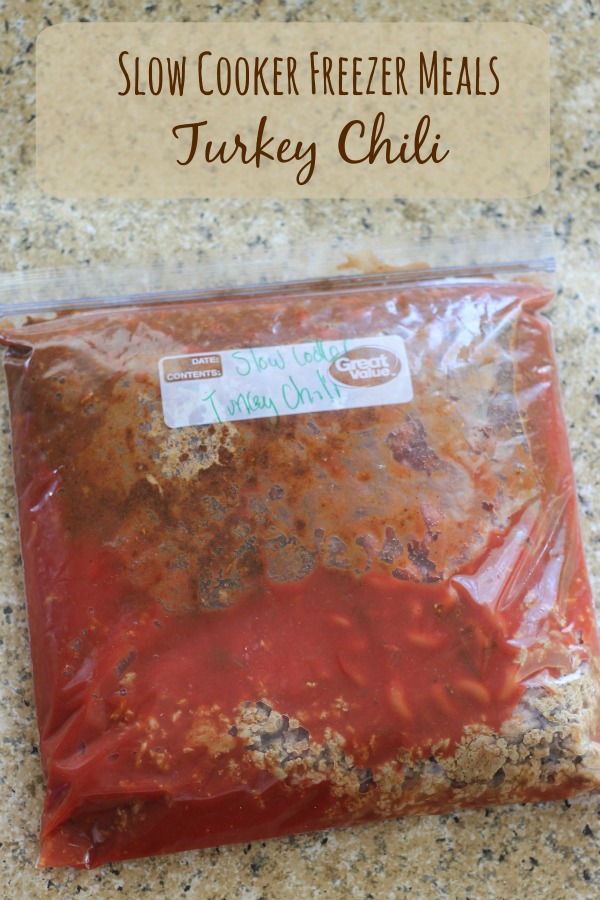 Chili is a great go to slow cooker meal for the coldest of fall days. Filling, hearty, and belly warming this Freezer Slow Cooker Chili is made lighter by using ground turkey in place of the ground beef, so you can enjoy your fall favorite without all the fat of traditional chili. Get creative with your toppings when you serve- set out shredded cheese, diced raw onions, and sour cream along with crackers to give your family a little chili bar so they can customize their bowl to their liking.
Turkey Chili | Freezer to Slow Cooker Meals
Ingredients
1 lb. ground turkey
1 packet mild chili seasoning
1 28 oz. tomato sauce or puree
1 small onion
1 10 oz can Rotel tomatoes w/green chilis
2 cans kidney beans
1 cup water
Instructions
Freezer Prep:
Label gallon freezer bag with contents, cooking instructions, and date.
Dice onion into small pieces.
Brown turkey in large pan, set aside and allow to cool.
Scoop turkey meat into gallon freezer bag first so that it is the last thing to go in slow cooker when you dump it in.
Pour tomato sauce, water, rotel, and onions on top of ground turkey.
Add chili seasoning on top.
Press bag flat, seal completely.
Cooking:
Thaw chili overnight in the refrigerator.
Spray slow cooker with nonstick cooking spray or use slow cooker liner for easy clean up.
Pour thawed chili into slow cooker.
Cook on low setting for 6-8 hours, stir occasionally.
Serve with an assortment of toppings.
View the Recipe Index for a complete list of recipes. For the most recent vegetarian recipes posted on the blog, go here. To view all the recipes post on the blog, go here.