We are a participant in the Amazon Services LLC Associates Program, an affiliate advertising program designed to provide a means for us to earn fees by linking to Amazon.com and affiliated sites.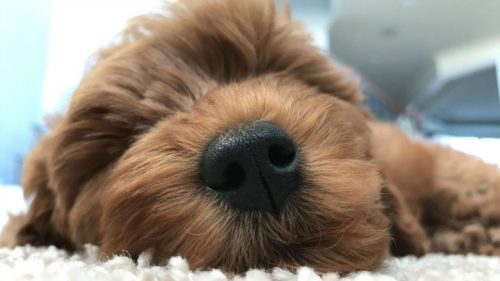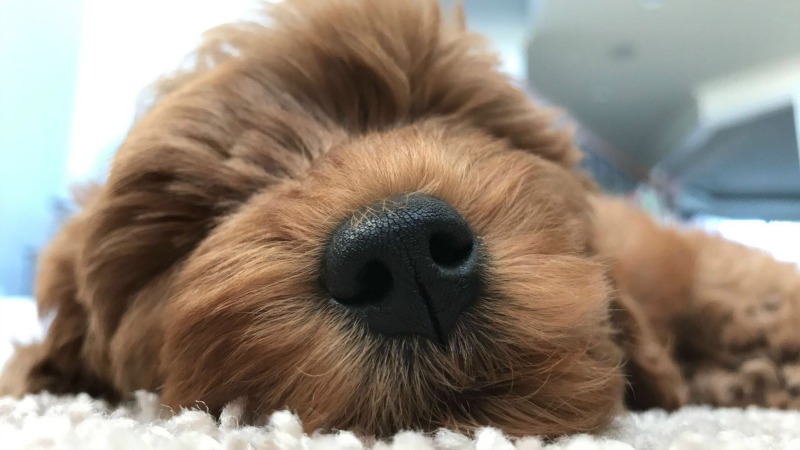 This holiday season was super busy for the Bargain Briana household! Basketball, holiday shopping, car pools, and we go ta (eeekkkkk) new puppy! For those of you that know me, know that I have never been a dog person. I'm positive my sweet little puppy has changed me to a dog person…at least MY dog!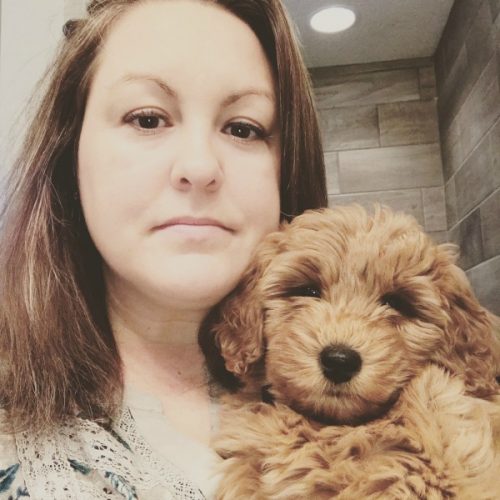 For the past few years, my family has been begging to get a puppy. This winter, I finally decided I was ready to be a puppy mom. We found the most perfect and adorable mini-golden doodle (f1b) in northern Indiana.  We surprised the kids about a week before Christmas with our sweet girl – Lela.  She almost doesn't like like a real puppy – more like a stuffed animal!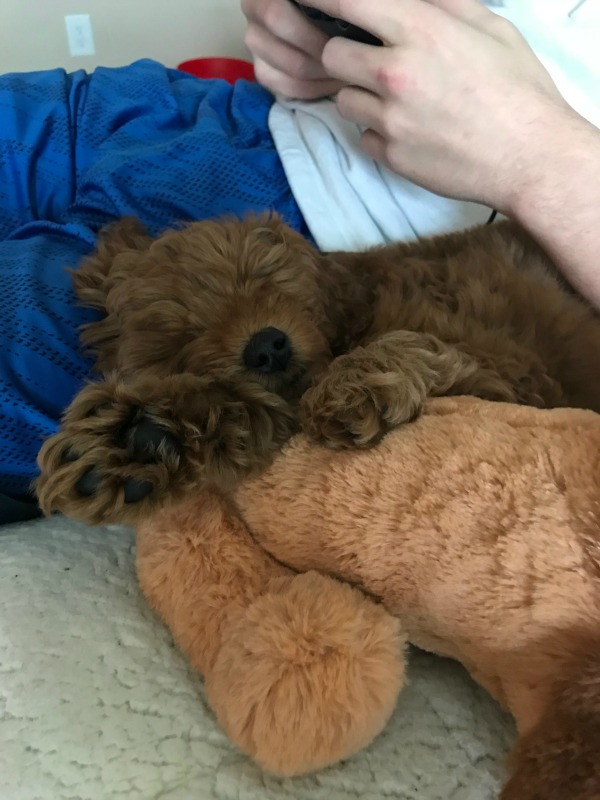 Of course, within just a day or so, one of the kids started Lela her own insta page – you can follow here at @Lela.theminidoodle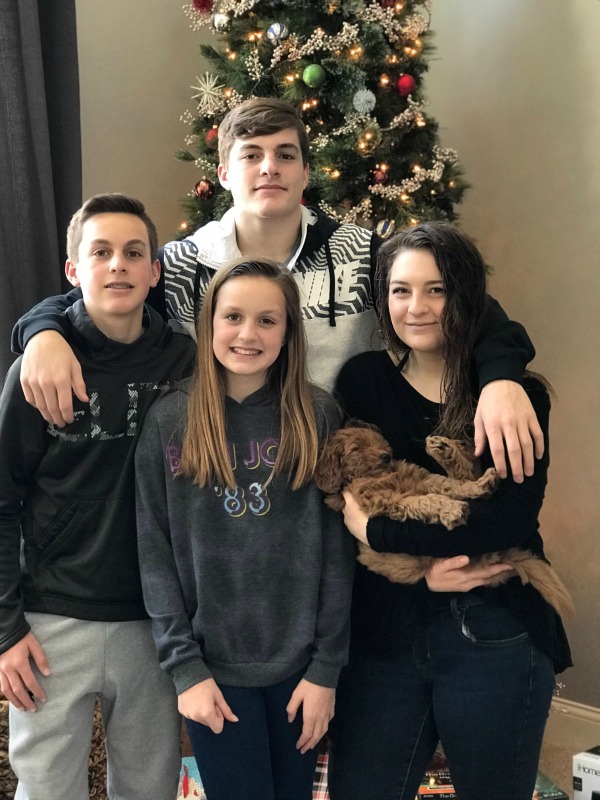 I was totally overwhelmed before we picked her up, wondering what we needed to buy for our fb1 mini-golden doodle puppy. It's basically like shopping for a newborn baby. Sort of. HA! Here's a few of Lela's must have items:
Supplies Needed for New Mini Golden Doodle Puppy
Crate. The Amazon Basic brand is great and inexpensive. She mainly only goes in here for sleep and when we will be gone. She prefers sleeping by the back door with the sun shining on her fur when we are home.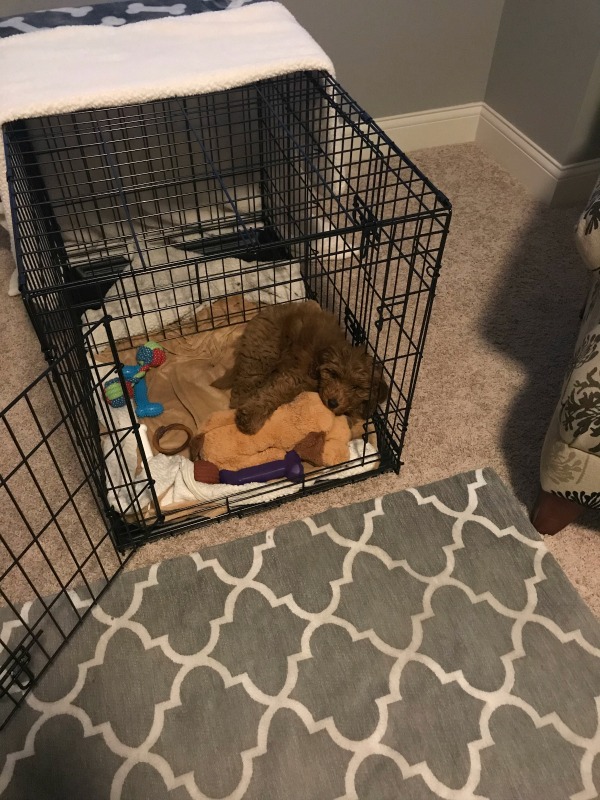 Snuggle Puppy. I can't emphasize how awesome this is for puppies. We haven't even used all the features and it really helped to soothe her the first few nights with us. It has a insert inside of it that you can turn on the "heartbeat." She really loves this toy/sleeping aid. Sometimes she does get a little too frisky with this little guy, tho! ;)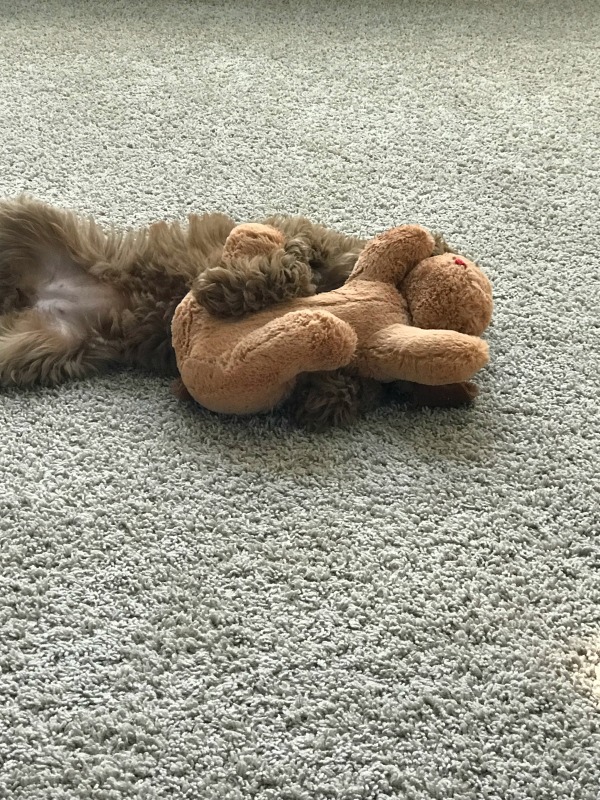 Elk Antler. Little to no mess like rawhides and she loves chewing on this. We purchased ours at Pet Smart but it looks like you can find these on Amazon too!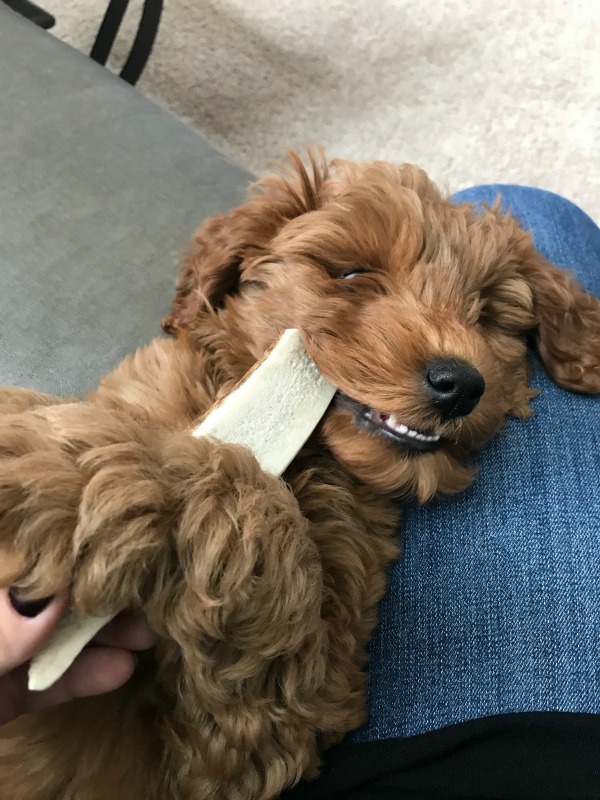 Nylabone Puppy Starter Kit. Our little girl loves to chew so these are great as well as the Elk Antler.
Wellness Grain Free Soft Puppy Bites. Oh, Lela loves these treats.  I love the ingredients!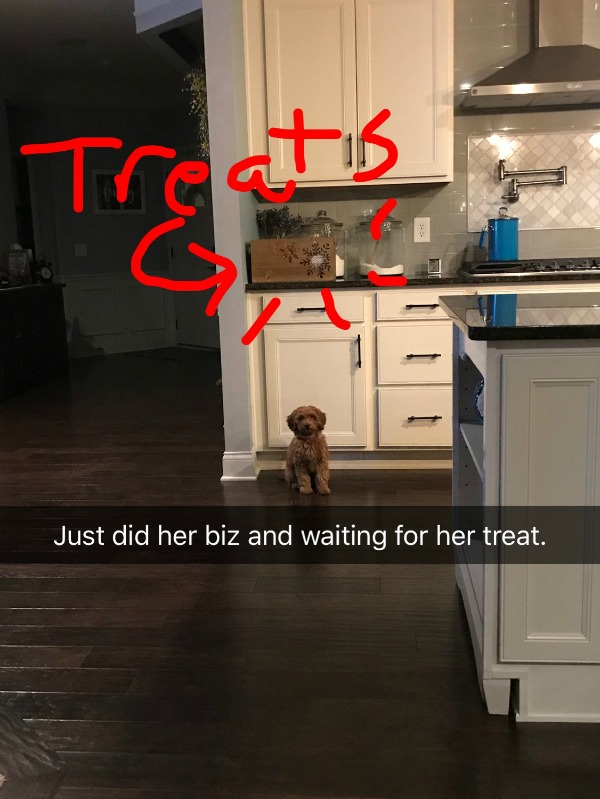 Kong. Okay, so several people suggested the Kong but Lela hasn't seemed too interested in it. Yes, she loves the peanut butter that I put in there but otherwise she doesn't really know what to do with it yet.
Cowboy Magic Shampoo, conditioner, and detangler. It almost seems silly to spend so much on hair products for your pet but she did smell and look wonderful after her first bath with these products!
Nature's Miracle. For those accidents on the floor, this is perfect. We have been lucky that accidents have been few and far between. However, the times we have used Nature's Miracle, it seems to have eliminated it as she doesn't keep coming back to that area to check it out.
Potty Bells. This is AMAZING! Lela picked up quickly on how this works. We are still taking her out very often but when she has to go in between, she will let us know by making sure we hear the bell!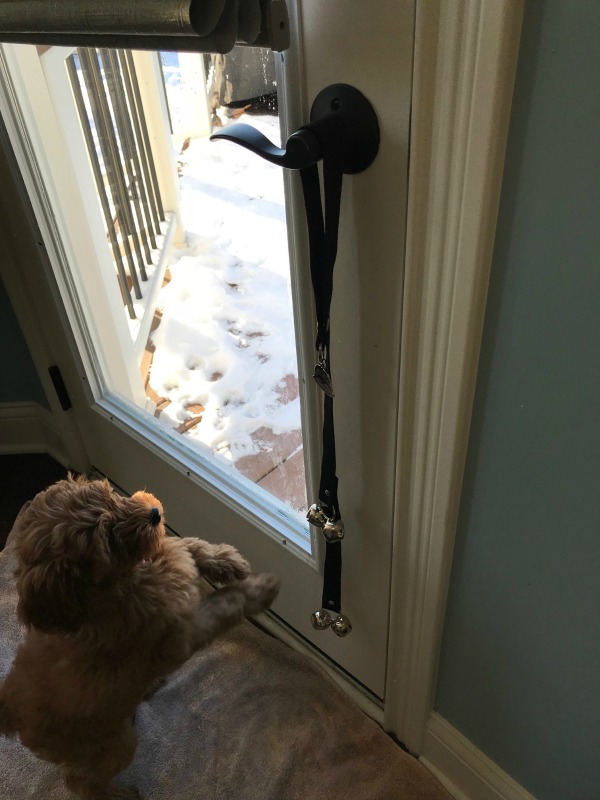 Poop bags. This is an area where a nicer and higher rated bag is well worth it. We originally started off with a cheaper brand (on Amazon) and it was almost impossible to find where to tear off on the bags.
Name Tags. We made Lela two adorable name tags at our local Pet store. It was easy to do and ready within just a few minutes. We did two so we could hear her when she was underfoot. Before we got the tags,  we were constantly tripped over her or wondering where she went. Now she has a little jingle that helps us know where she is at.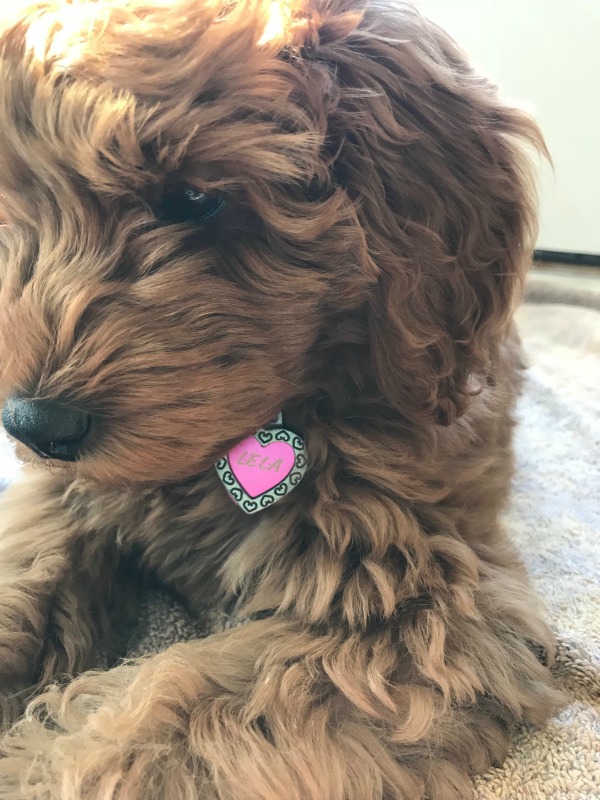 Obviously you need things like puppy food, food dishes, leash, and collar! We went with the puppy food that our breeder used and she came home with a leash and a collar that fit her. We did eventually upgrade those two items to a retractable leash and a nicer pink dog collar.
For cuteness…she likes to lick the cook books! Hilarious!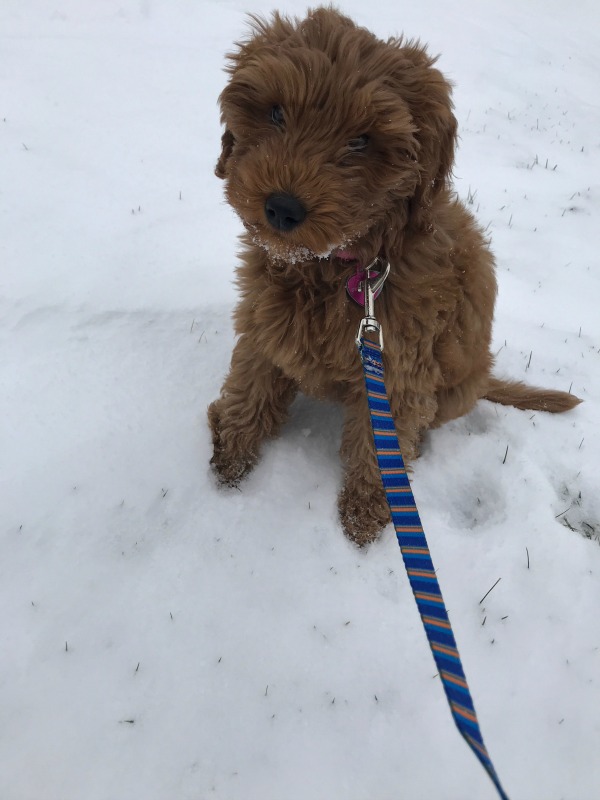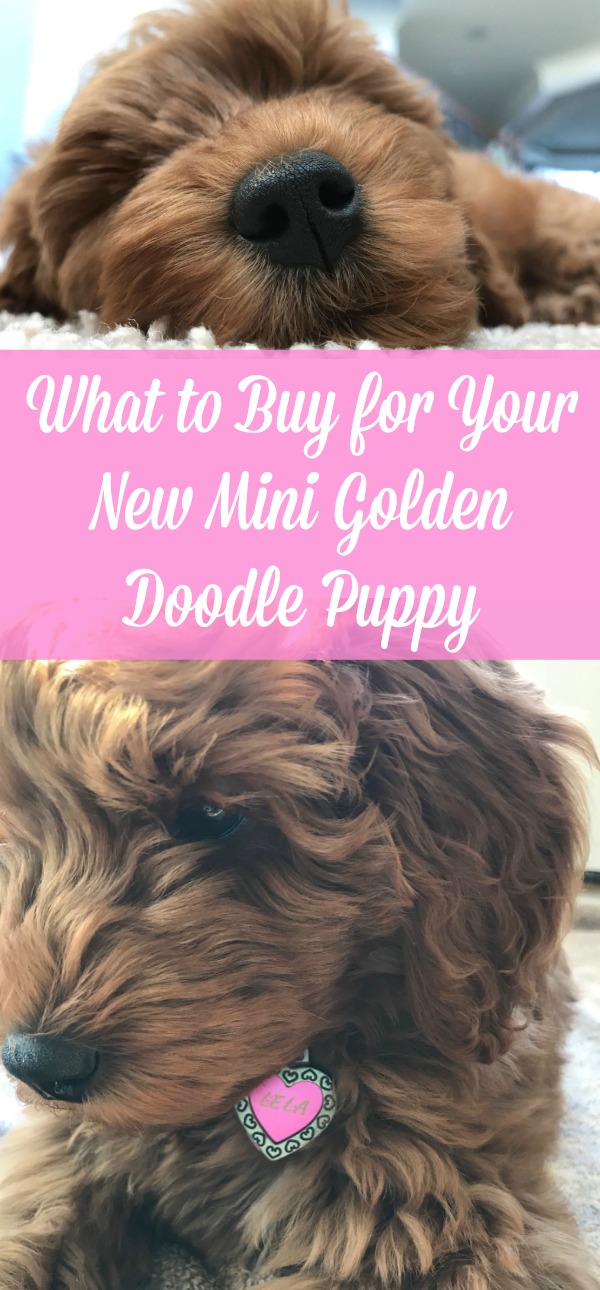 Update: I am going to add a few more items that we have discovered that we have to have over the past couple of years! (P.S. She is a super spoiled pup!) 
Magical Dinner Dust: Lela is around 75% poodle so she's very picky about her food. Sometimes she will got a couple of days without eating, which isn't good for a lil pup.  I recently discovered Stella & Chewy's Magical Dinner Dust and it has been a great way to encourage her to eat her food. Just sprinkle some of this meal topper on her food. I used to buy chunks of this freeze dried meat to put in her food but she was smart enough to just pick around it so this really has solved the food problem. 
Pet Corrector Spray: Lela is basically a perfectly pup except there are occasions when she gets in a barking zone (maybe she saw a squirrel or another pup) and won't listen to reason. Someone suggested Pet Corrector Spray. It basically just makes a loud "whooshing" noise that gets the pups attention. You don't spray it AT your dog, of course. Our pup knows when she hears that awful whooshing sound she better get her bottom back in the house and stop the incessant barking. Mind you, I don't mind an occasional bark to alert me to things so I don't censor her then. I only need to use this when it is completely embarrassing and borderline harassment to neighbors.
Lickimat: This makes it fun and takes them some time to lick off all the peanut butter or whatever other item you choose to put on the lick mat.
Nature's Specialty Plum Silky Pet Shampoo: My groomer recommended this brand and it smells great. It also leaves her hair feeling soft and conditioned.
Chuck it Balls: These balls have survived the chewing test but they always seem to disappear. I think she takes them outside and then who knows what happens to them! 
Slicker Brush: MUST have for doodles! Brush your doodle at least once a day. Start early so they get use to it. Reward them with treats so it will be a rewarding and fun experience instead of a negative one.
Surgi – Snuggly: This was a lifesaver after lil pup had her spay surgery. Just remember to lift the flap when they go out to potty or you will have a mess on your hands. Don't ask how I know this except it was completely the kids fault and luckily I had a few drinks when this happened or I would have remembered being more disgusted. LOL.
Dog Hair Dryer: We keep our dogs hair cut very short but it still takes awhile to blow dry their hair after bath time with a regular hair dryer. This power dog dryer also doesn't make my hand go number and dries much faster.
I am still on the hunt for toys she can't destroy. There haven't been too many toys that have survived. Some of them survive longer than others!