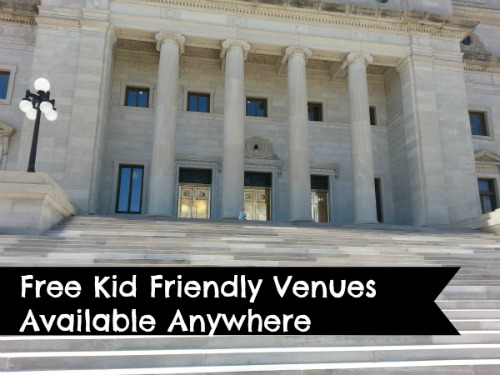 Since many of you will be traveling over the holiday weekend, we have put together a series on Traveling with Children.
When traveling with kids it can be tough to manage expenses with so many great venues to take in that cater to kids desires but there are some awesome free kid friendly venues you can find anywhere you travel.  This can be important when you have those hours of downtime between events and your kids are bored with being in the hotel room.  You don't want the extra expenses of another theme park visit but you do want them to have fun and not drive you crazy with their boredom.  Below is a list of things you can find in nearly every city that are free and easy for you to take your kids to enjoy and you can also check out this list of Staycations Ideas in over 80 cities!
Free Kid Friendly Venues You Can Find Anywhere
(1)    GO TO THE PUBLIC LIBRARY.  While this may not be on your radar, most public libraries will have a great children's department with books, toys, and interactive activities and even during summer months day camps that have crafts and special visitors.  Plan ahead and scope out the closest local library to your destination and look online at their calendar of events for the time you will be there.
(2)    VISIT THE LOCAL PARK.  Every area has at least one public fee kid friendly park you can visit.  By planning ahead you can have these saved to your Google Maps on your smart device and only have to click a button for directions.
(3)    INDOOR FAST FOOD PLAY CENTERS.  We cringe at the thought, but these can be one of the best life savers when you are short on funds or simply wanting to save a bit and kill a few hours.  With most major fast food restaurants offering free wifi, you have a two for one deal in this.  All Chick Fil A locations have a play center (and most have wifi).  Many of your other mainstream fast food chains do as well.  Plan ahead and look up the areas near your destination and make a note of which ones have play centers.  (Be sure to bring along hand sanitizer and easy to slip on/off shoes for these play times)
(4)    VISIT STATE OR GOVERNMENT BUILDINGS.  If you are visiting a state capital there are often great free tours of the government buildings that are both educational and fun for kids.  These include the chance to sit in the gallery and view legislation being made, or simply looking at state artifacts.  Local smaller government offices may or may not offer similar tours, but can still be a great thing to view as most are older buildings with beautiful architecture and gardening.  Depending on your children and their age this could be a great educational and fun thing to do.
(5)    TAKE ADVANTAGE OF NATIONAL DISCOUNTS.  Many museums and interactive kids' science centers offer annual memberships that allow free entry into multiple museums nationwide.  Check the local museums and kid's science centers in your area for this and consider purchasing an annual family pass that could be used not only at your location but other affiliate locations nationwide.
Consider your family dynamic and plan ahead with free venues in each area you plan on spending time.  You never know when you will have spare time and limited funds.  Every city has a claim to fame and thus will have some free tour, or attraction you can visit.  Most of all make sure every moment spent is enjoyable as a family.
Find more money saving travel tips here.
Did you enjoy this post? Find more money saving tips here.