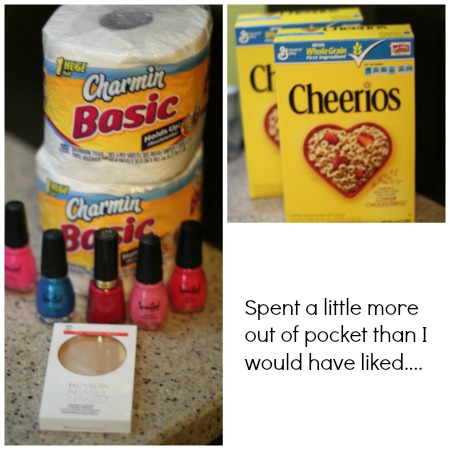 I have been rockin' CVS this week…until this transaction…hahaha…. I started this transaction with $3 from my previous transaction PLUS $5 in Beauty Care Bucks! Woo hoo! ALWAYS, I repeat ALWAYS head to the Magic Coupon Center (CVS Coupon Center) before shopping! You never know what you will get! This week there is a Charmin Basic CVS coupon that will get you $0.25/roll bath tissue!
The cereal boxes felt pretty big and we need water bottles for a upcoming road trip! The nail polishes aren't something I would normally buy but they make great gifts and stocking stuffers for the girls. The Spoiled nail polishes were just $0.99 after coupons. Plus, they also qualify towards the CVS Beauty Club!
Okay, so here's this transaction:
(4) Spoiled Nail Polishes @ $1.99/each
(1) Revlon Nail Polish @ $5.99
(2) Cheerios Cereal @ $1.99/each
(1) Revlon Powder @ $9.99
(2) Ice Mountain Water (24 pk) @ $3.44
(2) Charmin Basic @ 2/$1.99
– $1.99 (Spoiled Nail Polish B2G1 Free)
-$2/4 Spoiled Nail Polish CVS Coupon
– $3 off $12 Makeup Purchase CVS Coupon
– $3 off Revlon, any CVS Coupon
– $3 off Revlon Foundation, Powder, etc CVS Coupon
– $1.49 Charmin CVS Coupon
– $0.50/1 Cheerios Cereal Printable Coupon
–  $3 Extra Bucks from my previous transaction
– $5 CVS Beauty Club Coupon
$11.32 out of pocket (ouch – a little more than I expected)
70% Savings, which normally would sound great. However, I prefer to spend $5 or less on my CVS transactions. BUT received $5 Extra Bucks for next transaction, need to spend $7.91 on qualifying products to get another $5 Extra Bucks for the "Scott" Deal: Get $5 ECBs wyb $20 (or $10 wyb $30) in Participating Items, Limit $10 ECBs.
See the entire list of CVS Weekly Deals or find the most recent CVS deals posted.