In my mail, I noticed a envelope that had a hand written address on it with no return address. It almost looked like a letter from a friend, which made it instantly suspicious to me. Who writes hand written letters nowadays, anyway?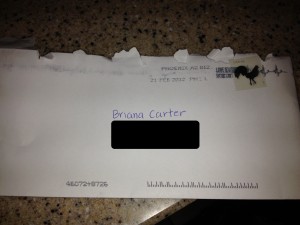 Of course at this point with my natural curious nature, I opened it before even pulling into our garage. The letter was from US Airlines. This struck me as wrong, right there. US Airlines? There was United Airlines and US Airways but the logo didn't match either and was very non-descript.  The letter told me I had qualified for an award of 2 roundtrip airlines tickets for anywhere in the U.S. up to $1,400.00. Wow, this sounds too good to be true, right?
February 18, 2012

My Name

My Address

NOTE: You must respond no later than February 29, 2012.

Dear Briana,

I am pleased to inform you that you have qualified for an award of 2 roundtrip airline tickets. Congratulations. These tickets are valid for travel anywhere in the Continental U.S. from any major international airport. The retail value of this award is up to $1,400.00. Certain restrictions apply.

We have attempted contacting you several times without success. This is our last attempt. If we do not hear from you soon, we may need to issue the ticket vouchers to the alternate.

Please call me today at 1-866-540-8432.
Regards, 
Hand Written Signature to look real
Kelly Mane
Vice President
FS-55183
Upon further inspection, the letter had no contact information besides a phone number to call. After googling the number, nothing came up at all. What kind of company sends out a legitimate letter without a address or a website to check out.
None.
This is most likely a scam to get your personal information such as your credit card. They will try to trick you by saying that they need that to hold your tickets. They may even ask for your social security number for tax purposes. This should all scream out SCAM to you.
Run away people. Run away.
Of course, they tell me this is their last attempt to contact me and I only have until February 29, 2012 to respond. It is February 24, 2012 when I receive the letter so they are pushing the urgency to respond right away.
Scammity, scam, scam!
Together we will fight to eliminate these scam attempts!
What kind of scams have you seen out there lately?