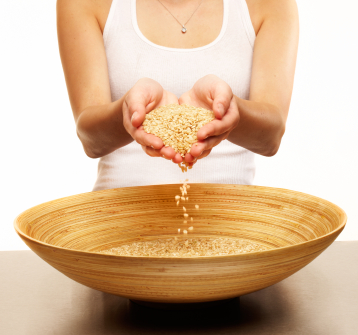 I made my own homemade Whole Wheat Dough for calzones or pizzas. Eli refused to eat it because it looked nasty. You know it is just horrible if we eat something that looks healthy around here! The other kids didn't complain and had no issues with the Whole Wheat Flour. Eli will probably try it eventually and tell me like he always does, "Mom, you were right, this IS good."
One of my goals this year is to cook from scratch more often with healthy and organic ingredients. As much as the budget allows and as long as I can keep the kid grumbling to a minimum. Though, Sofia was introduced to the Two Bite Club at preschool, which she is very serious about…as long as she doesn't have to try guacamole!
So back to the Whole Wheat Flour….
Why Whole Wheat Flour? It's healthier and all that stuff. ;) Basically, you don't lose the good stuff from processing. It is also a good source of calcium, iron, and fiber. Just google it and you will find all sorts of good things that Whole Wheat does for you.
Here's my recipe for Whole Wheat Calzone/Pizza Crust
1 teaspoon active dry yeast
1 cup warm water
1 teaspoon sea salt
1 teaspoon sugar
2 tablespoons oil (I used canola)
2 1/2 cups whole wheat flour (I used Bob's Red Mill)
Dissolve the yeast in warm water. Then add the salt, sugar, oil, and flour. Mix and form it into a ball. You can store in your fridge if you aren't ready to use right away. I made my dough the day before we used it. I'll share my recipe for my vegetarian calzones pockets in a upcoming edition of Meatless Monday.