Meatless Mondays is a weekly feature which will showcase some of my hits and probably misses with living a meatless life. Many of you know I stopped eating meat about a year ago for personal reasons. While, I haven't had any desire to go back to eating meat, it has been a struggle to find healthy foods to eat.
Everywhere you go, meat is the main dish. Since I was new to this lifestyle, it led me to eating unhealthy options. I'm on a path now to cook healthier options at home without meat. While going meatless is a personal choice for me, you can still save money by having one meatless meal a week.
Will you join me on this journey by preparing one meatless dish every week?
Black Bean Vegetarian Chili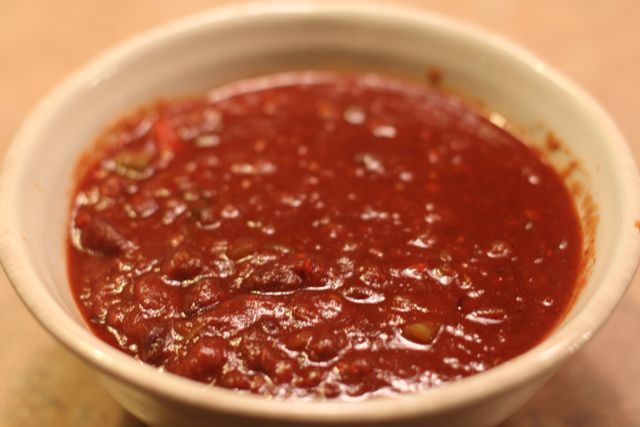 (This picture really doesn't display the deliciousness that is this recipe!)
Ingredients
1 Tablespoon olive oil
1 cup onions, chopped
1/2 cup peppers, chopped (I used a prepared onion/pepper mix from the deli because I was short on time! The pepper mix had red and green peppers)
3 cloves garlic, minced
1 teaspoon cumin
1/2 teaspoon cinnamon
28 ounce Crushed Tomatoes
1 cup water
4 ounce can chopped green chilies, undrained
3 cups black beans
1/2 teaspoon sugar
salt to taste
red pepper to taste
serrano pepper (optional)
jalapeno pepper (optional)
I know this looks like quite a few ingredients but most you probably already have in your cabinet!
I use dried black beans so I first cooked those in the slow cooker. I just fill it with water about twice the amount of the bean. I added cumin, one serrano pepper, and one jalapeno pepper. Cooked until they were done. I didn't drain when I added to the mix below because I didn't want to lose out on any of the jalapeno peppers or serrano peppers. Making black beans from dried beans is much more economical, healthy, and tastier too!  My friend, Cherie, was the one who told me how easy it was and now it's hard for me to go back to the canned version.
Heat the oil. Add the onions, peppers, and garlic. Cook until soft. Stir in the chili powder, cumin, and cinnamon. I really liked the taste of the Hot Mexican Style Chili Powder from McCormick's. Bryan picked that up at the grocery store. We go through chili powder like crazy around here. It's one spice, I need to get at the warehouse store.
Next stir in the tomatoes, water, green chilies. Bring to boil. Then add your black beans, sugar, salt, and red pepper. Return to a boil. Cook for an additional 30-35 minutes at a low heat setting.
Serves 4 – 6.
Post Dinner Analysis
I loved this recipe! I will be making it again. The cinnamon gives this spicy dish a sweet flavor. I topped with a little bit of mexican style cheese and tortilla chip strips.
I made this a second time this past week with a little different variations…I  left out the chilis, onions, and peppers. Added in a leftover salsa and mushrooms! Bryan said he thinks this is his favorite chili recipe that I have made! :)
Freezer Friendly

Freeze in lunch size portions for a easy take to work lunch.
Meat it Up

Add chicken or ground beef. You could also add some type of fake ground beef if you want that consistency.
Vegan Option
This is vegan and vegetarian friendly!
If you have any questions about the vegetarian lifestyle, you can read more about it at GoVeg.com. They will send you a free starter kit! :)