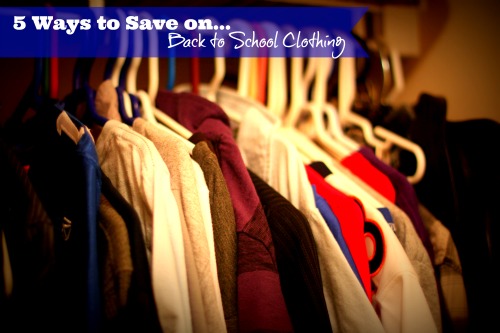 School will soon be back in session and that means the expense of school clothes again. Before you get into a panic about the costs, check out these 5 simple ways to save on your child's wardrobe.
See what they already have before shopping. Similar to making a shopping list before getting groceries, figure out exactly what you will need. This way you are not tempted to spend more than you need to on items you may already have for them.
Don't discount summer clothes. T-shirts can be worn all year as can polos. Girl's sun dresses can be made for wear all year by adding a cute cardigan and leggings.
Do a clothing swap with other parents. If you have friends with kids near your child's age, do a clothing swap for used, but still in good shape clothing. Everyone wins and kids get something that is new to them.
Shop second hand or online. Shopping on eBay can get you great deals on name brand clothing that is gently used or even new with the tags still attached. You may also be surprised how many good brands you can find at second hand stores.
Don't forget to accessorize. A new cardigan, hat or pair of leggings can make something old feel new again! Check out the website Cents of Style for inexpensive accessories!
Bonus tip! For footwear, make sure to check out outlet stores. You can often get great deals on top of the line footwear. Also, there are often show sales that are buy one get one 50%. Buy gym shoes and every day shoes at these sales.
Check out the online coupon code database to find the latest and best coupon codes for your favorite online shopping!