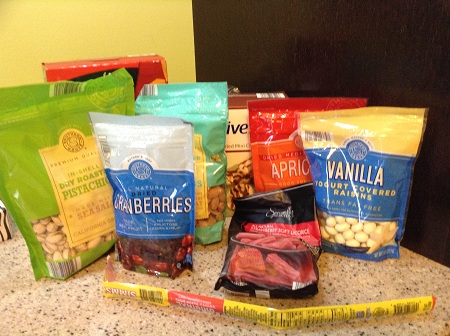 As you may know, I love shopping at ALDI. With school back in session, you may be looking for some after school snack ideas as well as snacks for mom! ALDI has a wide array of exclusive brand products that are sure to fit your needs! Some of my personal favorites are dry roasted pistachios, vanilla yogurt covered raisins, and Fit & Active Drizzled Mini Crisps.
Let me tell ya how popular the Fit & Active Drizzled Mini Crisps are in our household….a couple of weeks back, I found two packages hidden in one of the kids underwear drawer. This is how kids in a larger family hoard their snacks! It made me bust out laughing when I found them when I putting clothing up. I love to keep many of these items shown on hand for easy snacks as well as fresh produce at great prices from Aldi.
Regular everyday prices at ALDI with no couponing required….
Southern Grove Dried Cranberries – $1.19
Specially Selected Strawberry Licorice – $1.99
Savoritz Cheese Crackers – $1.89
Southern Grove Pistachios – $5.99
Simms Meat Snack Sticks – $0.89
Fit & Active Drizzled Mini Crisps – $1.99
Southern Grove Yogurt Covered Raisins – $1.89
Southern Grove Deluxe Dry Roasted Almonds, salted – $4.29
Southern Grove Dried Apricots – $1.99
Find the latest ALDI deals here.
Read more reviews from Bargain Briana or at the Buzz by Bargain Briana.
Products were provided by ALDI in order to facilitate this post. Post was written 100% by me and was not edited by the sponsor. Read more on my Disclosure Policy.