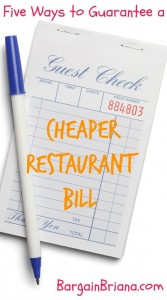 There are people out there that look to scam or get over on a restaurant for free food. This article is not about getting over on the bill. What it is about is learning how to save money when you go out to eat. There are plenty of legitimate ways to lower your bill and still be a good patron of the place you are eating. Here are five quick tips to get you started:
Five Ways to Guarantee a Cheaper Restaurant Bill
Use coupons
Coupons are a wonderful way to save cash and not feel bad about doing it. You have to realize the companies are putting the coupons out there because they want you to use them. This means free money to enjoy their product. Why wouldn't you use them?
Take advantage of family nights, specials
Most eateries offer up specials on particular days or for certain events and you can save a fortune if you take advantage of them. Free kids nights are a staple in many homes and with good reason…you can truly take a night off and not feel the pain of a high food bill.
Order light and then adjust
Most people order in anticipation of being extremely hungry and often end up leaving food behind. Instead, consider ordering light and then adding a side or two after if you are still hungry. Usually you will find that you get full quicker than you expected.
Skip dessert
Dessert might just be the primary reason you are going out to eat if you have a favorite that you get. If that is the case, move on. If not, however, you can save a ton of money just by skipping dessert. Truth is, most of us could stand to skip the calories as well. Perhaps you could share a dessert as a group?
Consider plate sizes
Plate sizes are everything when it comes to eating out. If you go to a place that serves huge amounts of food, why should you order more than you need? Share a plate if you need to avoid the waste. At least pack it up afterwards and take it home for a leftover meal. Some of the sizes are so large they could feed an entire small family. Take advantage of this when you can to save cash.
Tip: You can find more Restaurant Coupons here!
While saving money is absolutely important, you do need to make certain you leave a fair tip for your server. Skimping out on them is never a good idea when you have good service. If you can't afford to tip, you really should stay home or go somewhere that tipping isn't required.
What methods do you use to guarantee a cheaper restaurant bill?
Did you enjoy this post? Find more money saving tips here.