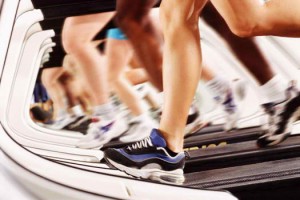 FOCUS.  If you're walking, running, going to Zumba or Step Aerobics classes, lifting weights, or participating in any other of your favorite exercise activities, this one word can help maximize your workout: Focus!  Let yourself 'get in the zone' from warm-up to cool-down and really try to pay attention to the way your body moves and feels.  By concentrating on the task at hand you can allow yourself to de-stress during the exercise activity and truly begin to enjoy working out.  Let it be your mental vacation. This means while working out don't plan the rest of your workout, don't think about grocery shopping, or calling your mom.  Don't stress about your workout yesterday or save your energy for this weekend.  Focus on the exercise you are doing right now.
If you're anything like me, this may seem nearly impossible.  Hectic schedules and general underlying worry makes NOT multi-tasking a task itself.  So how can you focus?  The simplest way is to have a plan and stick to it.  Your workout should contain these five parts:
Warm-Up: (0-5 minutes)
Cardio: Walk, Run, Bike, etc. (30-45+ minutes)
Resistance:  Muscular Endurance, Muscular Strength (10-20 minutes)
Flexibility: Static Stretch, Dynamic Stretch (5-10 minutes)
Cool-Down: (0-5 minutes)
Don't worry, some of these stages can be combined! Example:  Elliptical machines can provide both cardio and resistance training.
An easy way to eliminate the planning stage of your workout is to sign up for group exercise classes.   I attended several group exercise classes last semester to supplement my individual workouts and they were a great motivational tool.  I learned and re-learned several exercises by participating in Step Aerobics, On The Ball, Turbo Kick, and more.  I've heard a lot of great things about Zumba as well!  If you're already signed up for classes, great!  Here's what you can do:  Focus on each segment.  Remember to keep moving if you mess up, but as the weeks progress challenge yourself to be better.  Try to be stronger with every punch, kick, and hamstring curl so you get the most out of your time.  Pay close attention to your instructor and ask questions after class if you think you aren't feeling the burn!   Often the slightest adjustments can make a world of difference!
So this week Focus and Enjoy.  Be proud of yourself for the work you've done today.
Get-Fit Items of the week: