Meatless Mondays is a weekly feature which will showcase some of my hits and probably misses with living a meatless life. Many of you know I stopped eating meat about a year ago for personal reasons. While, I haven't had any desire to go back to eating meat, it has been a struggle to find healthy foods to eat.
Everywhere you go, meat is the main dish. Since I was new to this lifestyle, it led me to eating unhealthy options. I'm on a path now to cook healthier options at home without meat. While going meatless is a personal choice for me, you can still save money by having one meatless meal a week.
Will you join me on this journey by preparing one meatless dish every week?
Tofu Tomato Basil Penne Pasta
Ingredients
16 oz package Penne Pasta
3-5 Roma Tomatoes, chopped
5-7 Basil Leaves
1/2 cup Balsamic Vinaigrette Dressing
8 oz Italian Cheese
1/4 cup Parmesan, freshly grated
12 oz package of silken tofu, diced
Dice the tofu. I like silken tofu because the texture isn't as spongey as some of the other varieties. It really just blends right into this recipe. Tofu doesn't really have any taste but I add it for the protein and texture. I marinated the Tofu for a couple of hours in a vinaigrette dressing we had in the fridge. Then I warmed it on the skillet in olive oil for around 10 minutes.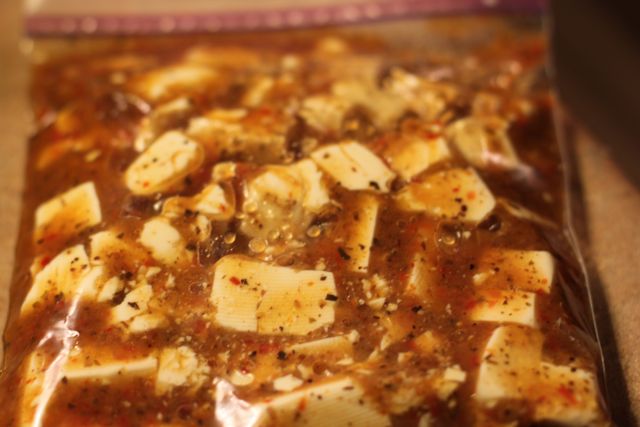 Chop your tomatoes and basil leaves. Fresh basil is the ONLY way to go in this recipe. Cook penne pasta per the instruction. Mix the tomatoes, basil leaves, balsamic vinaigrette dressing, cooked tofu, cooked pasta, along with half your Italian cheese. Place in a 9″ x 11″ dish. Top with the remaining cheese and freshly grated parmesan. I use my Ninja chopper to make freshly grated Romano Parmesan available for us all the time. Sofia says it is the best!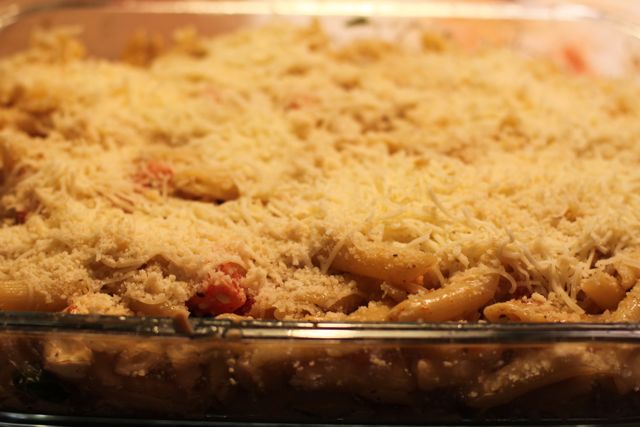 Cook at 375 degrees for 15-20 minutes or until done.
This paired perfectly with a fresh Romano salad with balsamic vinaigrette dressing.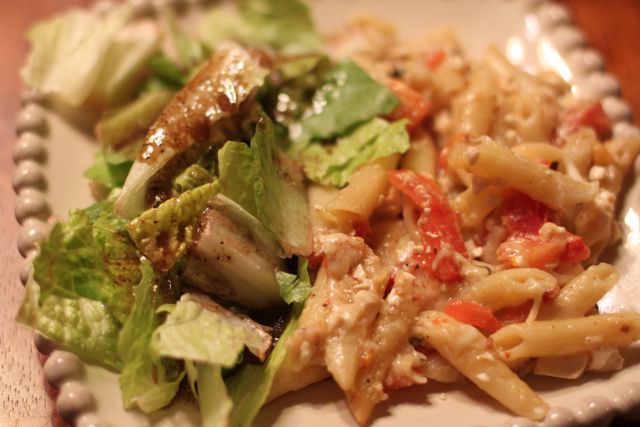 This will be several meals for me!
Serves 4 – 6.
Post Dinner Analysis
I love this recipe! Super light and tasty dinner. Hannah, my oldest daughter, asked me to make this again even with the Tofu in it. You can't really taste the tofu but I was still surprised she liked it.
Freezer Friendly

Tofu isn't freezer friendly but you could freeze everything and add the tofu when you are ready to eat.
Meat it Up

Use chicken instead of Tofu.
Vegan Option
Use Vegan cheese.
If you have any questions about the vegetarian lifestyle, you can read more about it at GoVeg.com.