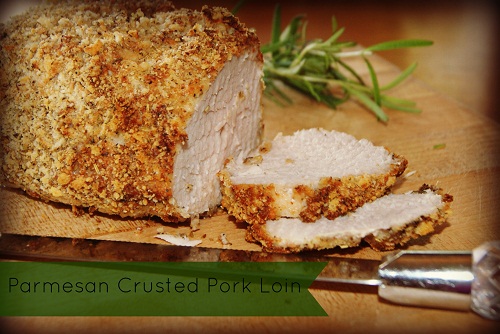 Fantastic for Sunday supper or any other  night of the week this Italian inspired dish looks like you put a lot of effort into it but it's surprisingly simple.  Using Greek yogurt locks in the juices, and your pork loin comes out tender and juicy.  Panko bread crumbs add a bit of crunch, while Italian seasonings put the flavor over the top.  Serve with mashed potatoes, a yummy vegetable and you've got a fantastic meal to put on the table.  Also comes out beautiful in a rotisserie.
Parmesan Crusted Pork Loin Recipe
Ingredients
1 to 1 ½ pound pork loin
¼ cup grated parmesan cheese
⅓ cup panko bread crumbs
1 Tbsp. Rosemary
½ Tbsp. Oregano
½ tsp. pepper
1 tsp. garlic salt
2 Tbsp. Greek Yogurt (or mayonnaise)
Instructions
Preheat oven to 375°
Mix parmesan cheese, breadcrumbs, and seasonings in a large shallow dish.
Using a spoon coat pork loin in a thick coat of yogurt.
Roll loin in the crumb mixture, coating completely-even the ends.
Spray baking dish with non-stick spray
Place pork in baking dish and bake for 20-25 minutes, or until no longer pink, meat thermometer should be at 160°
View the Recipe Index for a complete list of recipes. For the most recent vegetarian recipes posted on the blog, go here. To view all the recipes post on the blog, go here.