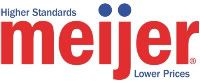 {Current Meijer Deals}
{Meijer Resources}
Meijer One Card
Meijer Customer Service: 1-800-543-3704
{Meijer FAQ}
Meijer accepts paper and printable coupons.
Does Meijer Double Coupons?
Check your Weekly Ad to find your store's policy. Doubling policies vary across the regions. In addition, some stores limit doubling to two of the same coupon per transaction.
Does Meijer have eCoupons?
Meijer offers store eCoupons called mPerks. These can be combined with manufacturer's coupons for additional savings. You will need to register an account with your cell phone number and type this in at checkout.
Does Meijer offer a Reward Program?
Meijer offers Community Rewards through the Meijer One Card and the Meijer Credit Card.
Can you combine Meijer Mealbox Coupons with Manufacturer's Coupons?
Meijer offers store coupons via the Meijer Mealbox widget. You can combine Meijer Mealbox coupons, which are store coupons, with manufactuer's coupons.
Can I get a rain check if a sale item is out of stock?
Meijer does offer Rain Checks. They are valid from 30 days from the date on the Rain Check.