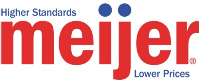 View your local Meijer Weekly Store Ad for sale dates.
This list is based on the Meijer Ohio Ad that runs Sunday – Saturday. These prices will be very similar to the Indiana ad that runs from Sunday – Saturday.
New to Meijer Shopping? Check out Meijer 101 to maximize your savings! Read about Meijer mPerks.
[sdc_grocery cr_id='14' name='Meijer']
Be sure to check out the rest of the week's grocery store deals and drug store deals!