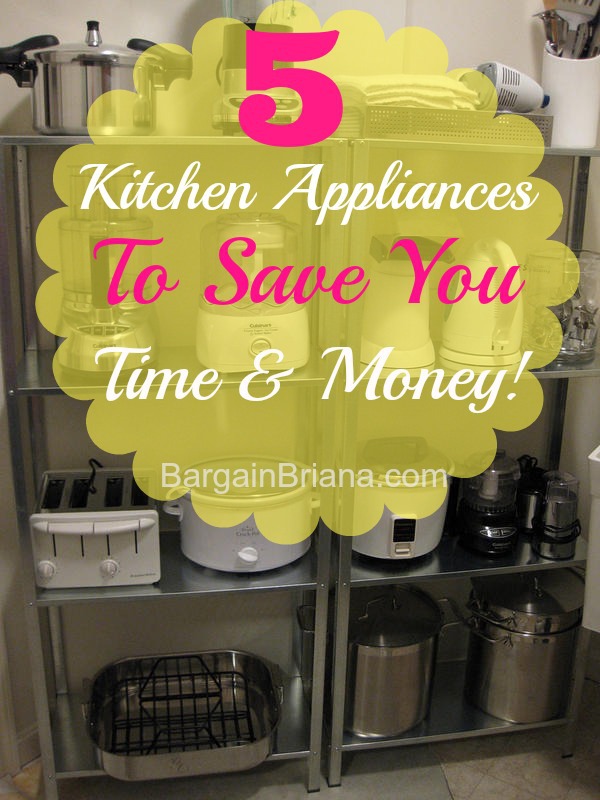 Whether you are a stay-at-home-mom or a working mom, we all have one thing in common! We all want to save time and money when it comes to cooking. There are several kitchen gadgets that will not only save you time but can save you money as well. Keeping reading and you will find my top 5 must have kitchen gadgets!
1. Slow Cooker – I know this is one gadget that most of us already have in our kitchen. However, if you don't have a slow cooker I suggest getting one ASAP! You can throw dinner in the slow cooker when you wake up, put the lid on and walk away until dinner time. You can cook just about any type of meat in a slow cooker. Slow Cookers save busy moms loads of time since you don't have to spend time standing over the stove. I love using it for my  Creamy Corn, Slow Cooker Three Cheese Macaroni Recipe, and Ultimate Meatball Recipe to name a few!
2. Breadmaker – If your family enjoys fresh bread, you might want to think about adding a breadmaker to your kitchen. Making your own bread saves your family money and ensures you that they are eating only the healthiest bread. Using a breadmaker over hand making bread can save you hours in the kitchen. No more mixing the dough, kneading, letting it rise and kneading again. With a breadmaker you put the ingredients in and let the machine do all the work! I suggest borrowing one from a friend to see if you will use it enough! I love making Our Family Favorite Pizza Dough Recipe in a breadmaker!
3. Mini Chopper – If you enjoy cooking a mini chopper should be on your list of things to purchase. Dicing up tomatoes, onions, garlic and other vegetables can take a lot of time. A mini chopper lets you quickly dice up your food! If you find a great deal on onions, garlic or anything else you can quickly dice it up and get it in a freezer bag. I love my Ninja Prep for chopping!
4. KitchenAid Mixer – This is an expensive gadget to add to your kitchen but it is well worth the cost! A KitchenAid mixer lets you quickly mix up ingredients, shred chicken, make fresh pasta and a wide variety of other things like mashing your potatoes like I did for this freezer friendly Garlic Mashed Potato recipe. You can really get creative and start making more foods from scratch with a KitchenAid mixer.
5. Food Saver – Stocking up on food when you find a sale is a great option if you are watching your grocery budget. The problem with buying food in bulk is storing it. If you are stocking up on meat one issue you will run into is freezer burn! Getting freezer burn on your meat can end up costing you more money in the end. Using a Food Saver to store rice, meat, chips, veggies or any other food will save you a lot of money! Using a Food Saver will prevent your food from going bad or getting freezer burn.