Highlight the code. Then copy & paste into your blog!
Any questions, please contact me.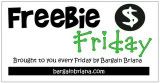 Like what you've read?
Subscribe today to receive free daily updates and download your FREE eBook: 10 Secrets to Extreme Coupon Realistically
Disclaimer: This post may contain a link to an affiliate. See my disclosure policy more information.