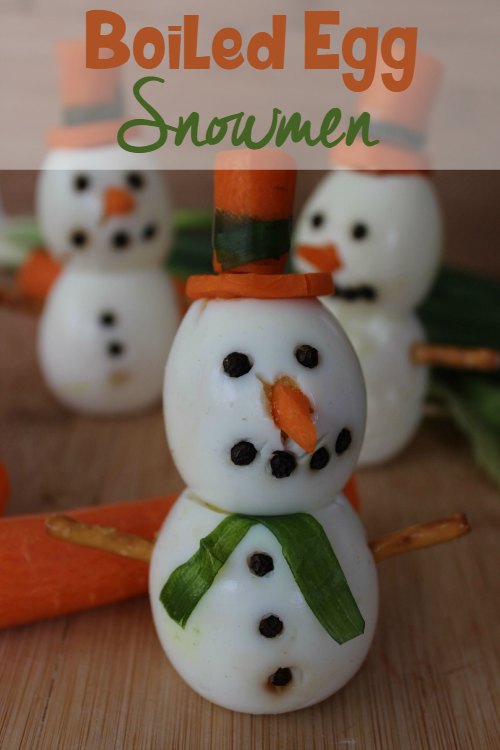 These Boiled Egg Snowmen are adorable as well as healthy. These make a fantastic healthy snack for your winter and holiday parties. These cute little winter snacks will also be a impressive show of your creativity.
It is not difficult to boil an egg perfectly every time. You will need 12 hard boiled eggs to make 6 of these boiled egg snowmen. To make a perfect hard boiled egg, place your eggs in a pan and cover the with cold water. Bring to a boil and then place a lid on your pan as you turn off the heat. You will then let them stand for about 15 minutes. Cool your eggs in a bowl of cold water until they are no longer hot when you touch them. Then peel when you are ready to decorate.

Print
Boiled Egg Snowmen
---
6

Boiled Jumbo Eggs

6

Boiled Medium Eggs

2

Carrots
Peppercorns
Pretzel Sticks
Green onion stems
---
Instructions
Slice off a small section from top and bottom of each egg to allow them to stand and stack neatly.
If you are going to serve soon, you can use pretzel sticks to join each piece and they will be completely edible. If they need to sit for a while, the prezels will become to soggy, so you will have to use wooden skewers.
Even if you are using pretzels, you will need to pierce the egg and carrot before pushing pretzels through.
Push a pretzel stick down into large egg to make body and place smaller egg on top.
Peel carrots.
Slice the thick end of carrot into six 1/8″ slices to use as hat brims.
Slice middle of carrot (or smaller carrot) into six 3/4-1″ slices for top of hat.
Use skewer to "pre-drill" hole in carrots to allow pretzel to connect them with remainder of stick extendeding below brim.
Push assembled hat down onto head.
Take the small end of a carrot (about 1/2″) and cut lenghtwise into six sections to use as noses.
Using a toothpick, pierce "face" egg in the middle and insert the nose.
Pierce for the two eyes and four spots to make a mouth and press in peppercorns.
Pierce the "body" egg three spots to make buttons and press in peppercorns.
Break a pretzel in half and insert a piece in each side of the body to make arms.
You can optionally use green onion stems to make a hat band and scarf.
Split the green tube and open it up.
Gently scrape the blade along the inside of the opened stem to remove stiffness.
Trim the softened piece to make scarf or hatband and wrap in place.
---
Recipe Card powered by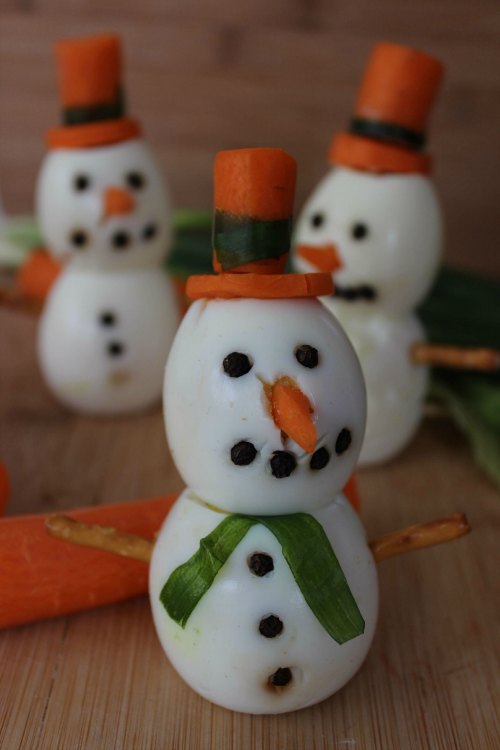 View the Recipe Index for a complete list of recipes. For the most recent vegetarian recipes posted on the blog, go here. To view all the recipes post on the blog, go here.