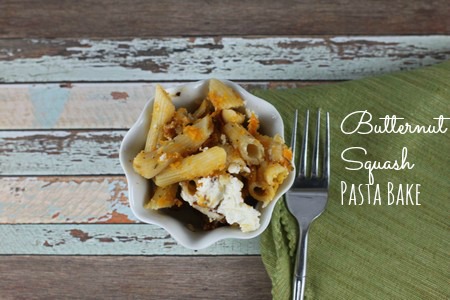 Butternut Squash has been very inexpensive in stores right now and is very nutritious. I love the nutty taste of this recipe but it is not overwhelming or overpowering. I found the original recipe on the Weight Watchers website as it is "WW Friendly." It creates 8 servings. Each serving is 7 Weight Watchers points.
If want to save time, you can sometimes find cubed butternut squash in your produce section. I've done it both ways and you will pay a little more for convenience but something that extra time saved is worth the cost.  If I can find butternut squash at ALDI, I'll purchase it there. If not, I might spend a little extra and get it already cubed!
Once you get your butternut squash cut up, place in a single layer on a pan and cook at 375 degrees until soft and tender. This should be around 20-30 minutes.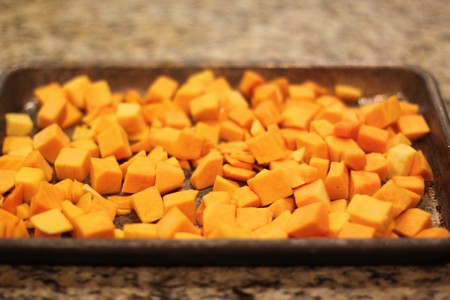 Find the rest of the directions in the printable recipe below!
Butternut Squash Pasta Bake Recipe
Ingredients
20 oz butternut squash, peeled and cubed
12 oz penne pasta
1¼ cup milk, skim
2 tablespoons all purpose flour
2 teaspoons minced garlic
½ teaspoon salt
¼ teaspoon black pepper
1 teaspoon thyme
½ cup ricotta cheese
⅓ cup freshly grated parmesan cheese
¼ cup pecans, chopped
Instructions
Roast butternut squash at 375 degrees for 20-30 minutes or until tender. Put in large bowl and mash.
While butternut squash is roasting, cook penne pasta per directions.
In medium saucepan, combine milk, flour, garlic, salt, and pepper. Bring to a boil and whisk frequently. Reduce heat and simmer. Stir often until thicken.
Remove from heat and stir in squash and thyme.
Toss pasta with sauce and coat.
Place into baking dish.
Dot top of pasta with spoonfuls of ricotta.
Sprinkle with parmesan and pecans.
Bake at 375 degrees for 15-20 minutes.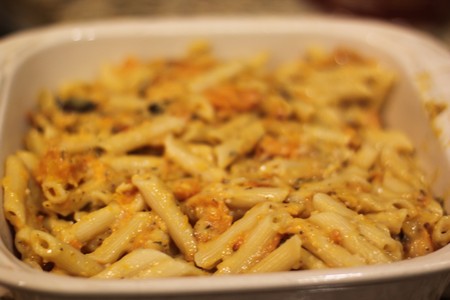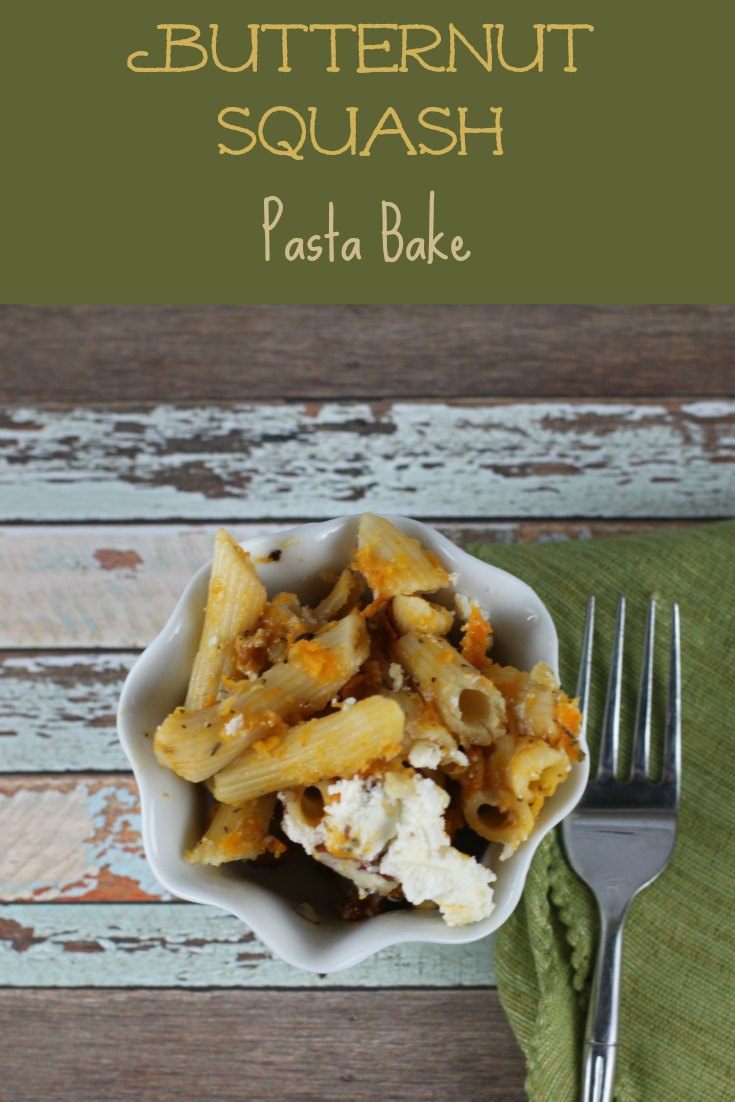 View the Recipe Index for a complete list of recipes. For the most recent vegetarian recipes posted on the blog, go here. To view all the recipes post on the blog, go here.