Do you have your holiday shopping done yet? Did you stick to your holiday shopping budget?
Credit Card rewards are playing a huge role in our holiday shopping according to the 2014 Holiday Shopping Survey commissioned by Discover. 55% of you that are using your credit card for holiday shopping are using them because of the rewards you earn when you use a certain card. I like to not only earn rewards back when I use my Discover Card but I also like the safety and convenience of not having to carry around cash when doing my holiday shopping.  Watch the complete findings of the survey on this fun video.
To help you save during the holiday season, Discover is available from the comfort of your own couch. Discover Deals, Discover's online shopping platform, is offering CashBack Bonus on online shopping & department stores through the end of December. This means you can shop end of the year sales! This includes CashBack Bonus online at retailers such as: amazon.com, Walmart.com and other popular retailers, including Macy's and Nordstrom. Regardless of whom you are shopping for, Discover Deals has an offer for all of the people on your list. Use your Discover Card to get 5% Cashback Bonus on up to $1,500 in Online Shopping and Department Store purchases, from now through December 2014 this holiday season.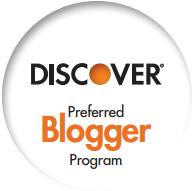 My views are my own and do not necessarily reflect the views of Discover Products Inc. and its affiliates. This post was sponsored by Discover Card. Rest assured, this Post was written by me and was not edited by the sponsor. Read more on my Disclosure Policy.