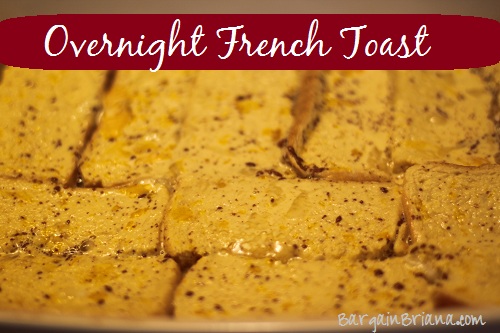 Overnight French Toast. The kids absolutely love this one. If you follow me on Facebook, my youngest son responded that he would have oatmeal that particular morning unless I was cooking something from the pan again like that good french toast or eggs! "From the pan" cooking! :)  As a treat this week, I made up another batch of this super simple and super delicious french toast even though it requires me getting up to put it in the oven and then going back to sleep.
The first time I made this with part of a french bread loaf that needed to be used up and regular bread slices. This last time I used Texas Toast bread, which works out nicely because it is a little thicker! I also had just 1.5 cups of half & half left after making potato chowder as part of my freezer meal plan. I love it when I am able to utilize leftovers!
SimpleOvernight French Toast Recipe
Ingredients
6-8 slices of bread (this is a great use for bread that is starting to get a little hard!)
1½ cup half & half
5 eggs
¼ cup brown sugar
2 teaspoons vanilla
1 teaspoon cinnamon
¼ teaspoon nutmeg
salt as desired
3-4 tablespoons butter
cooking spray
Instructions
Spray 9"x11" dish with cooking spray.
Cut bread into ½ pieces and lay flat in the pan in one layer.
Mix together the eggs, half & half, vanilla, brown sugar, cinnamon, salt, and nutmeg in a medium bowl.
Pour mixture over bread so it well coated.
Cover dish with saran wrap and press down on the saran wrap to soak the bread slices.
Place dish in the refrigerator overnight.
Next morning:
Preheat oven to 375 degrees.
Remove saran wrap from dish.
Place several pats of butter on top of the bread.
Bake for 35-40 minutes until bread is puffy.
Top with maple syrup!
View the Recipe Index for a complete list of recipes. For the most recent vegetarian recipes posted on the blog, go here. To view all the recipes post on the blog, go here.