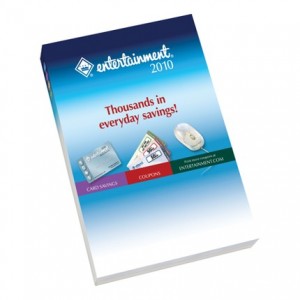 Right now, there is a fabulous deal going on for the 2010 Entertainment Books. If you don't know about these books, they are books full of coupons and discounts tailored for your area. Right now, you can purchase a Zulily for just $19.99 shipped.
Recently, my Entertainment Book helped me save on my son's birthday party. Since, our house isn't large enough, we decided to do a Laser Tag Party and I was able to use several Buy 1 Get 1 Free discount coupons and saved over $100.  We had a blast AND saved money!
Here's a few of my favorites from my local Indianapolis Book:
$5 off $15 Steak n Shake purchase
$5 off $15 T.G.I. Friday's
Free Chips & Salsa at Moe's
$10 off $50 Aeropostale purchase
$10 off $50 Lane Bryant
$5 off $25 Ace Hardware
$20 off $100, $15 off $75, and $10 off $50 Dick's Sporting Goods (These coupons alone make it worth it for me to buy this book!)
Zulily can make great gift ideas or you may even want to pick one up for a location you are going to vacation in. Enjoy your savings!