Disclosure: I am a CERTIFIED Coach for the FASTer Way to Fat Loss program. If you join a round as a client, I will receive a commission. All thoughts and opinions are my own. 
** My next
FASTer Way to Fat Loss® bootcamp starts prep week on March 11th! Secure your spot today —>>>
FASTer Way to Fat Loss® **
As many of my long time readers know, I have struggled with my weight for years! I have tried so many things and nothing seemed to stick. I have finally found the BEST program for me and it doesn't involve buying any special products, magic pills, special wraps, or super shakes.
When I first saw my friend Adrienne posting about being a FASTer Way to Fat Loss® coach, I sort of rolled my eyes at the "miracle plan," without doing any further investigation. Little did I know, I would be one of her biggest supporters within just a few months!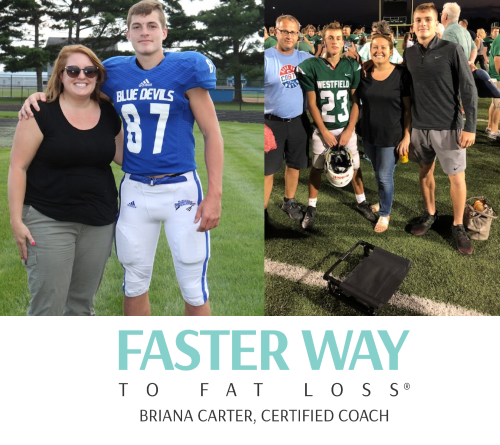 Finally, one of her posts really hit home with me. It was along the lines of taking care of your health BEFORE you have to. This struck me hard. I had accepted the way my body looked. I knew that didn't define me. But my health. This is where I knew I was struggling. When you have hit your highest pregnancy weight when you aren't pregnant and are carrying around an extra 70+ pounds, it takes a toll on your body.
I was feeling all of these extra pounds. Tired, headaches, acid reflex, irritability (tho my fam will probably say this hasn't gone away! 😉 ), getting winded easily, etc. I felt miserable. The kicker was I was starting to have trouble tying my shoes. When I saw the post about taking care of your health before you have to take care of your health, I felt like she was talking directly to me.
I signed up for Adrienne's next round. I still was VERY skeptical about the program. I never had made it past 2-3 weeks with any program. Reasons why I had failed in the past:
felt like I was starving due to lack of calories
restriction of my favorite foods
lack of results
no time to do hours of cardio or gym time
did not know what exercises to do to see results
no accountability
The
FASTer Way to Fat Loss® program has solved all of those reasons I have failed in the past. With the
FASTer Way to Fat Loss® , I am eating so much food. (Follow me on Instagram @BrianaCarter78 to see what I am eating – I post daily on my story!) Some days, I wonder how I am truly going to get in all my macros! I am eating awesome foods that are delicious. On Saturdays (leg day), we work a special treat in. Results are amazing! In just the first round (6 weeks), I lost 21 lbs and 11 inches. I have now done 2 rounds, two weeks on my own, and now in a FASTer Way to Fat Loss® VIP group and have lost a total of 55 lbs and I have lost track of how many inches but 5 jean sizes down! 🙂 **Results not typical and your results may vary.
The workouts are usually 30-40 minutes and can be done at home or the gym. REST days are even built into this program.
But most of all, the accountability and support from my coach Adrienne and the entire community of
FASTer Way to Fat Loss® ladies was the biggest thing that helped me. Even when I didn't think I could do it, Adrienne encouraged me. Due to this and the success I have had on this program, I want to help you, my friends, if you are ready!
I am excited to announce I am
FASTer Way to Fat Loss® Certified Coach. What does this mean? I had a video interview with FWTFL to see if I was a good fit. I was accepted to be a coach. Then I spent hours studying for the test and passed!
I am still a work in progress. I am still working to get to my goals. I also want to help others achieve their goals. By helping others, it will also help keep me accountable to my goals.
I also want you to know, you can do this program and still stick to your grocery budget. You can eat healthy and not spend a fortune! You know I will be working in some of my best "Bargain Briana" tips!
If you are ready to start this journey, I highly suggest you go ahead and do it now. 🤩 sign up here ——>>> http://fasterwaywithbriana.com/